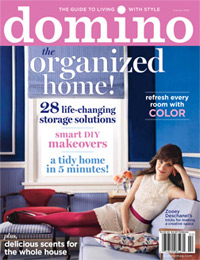 The Observer has learned Conde Nast has folded Domino.
Just over two weeks ago, Si Newhouse and Condé Nast CEO Chuck Townsend put Glamour publisher Bill Wackermann in charge of the flailing shelter magazine, but it appears the experiment has been abruptly abandoned. (Perhaps this is the "January surprise" The Observer heard rumblings about earlier this month.)
A spokeswoman confirmed the news and said a statement would be released shortly.
"The economy and the current economic climate forced an immediate decision," said the spokeswoman.
She said that Domino editor Deborah Needleman and publisher Beth Brenner would both leave the company, but that some staff, on both the editorial and business side, would be retained and given new jobs at Condé Nast. There is currently a hiring freeze at the company, and she would not release how many staff members would be given new jobs.
Launched with great buzz in 2005, the magazine was nominated for two National Magazine Awards in 2008. Ms. Needleman—who is a New York fixture along with her husband, Slate Group editor-in-chief Jacob Weisberg—recently wrote an op-ed for The New York Times about the interior design of the White House.
UPDATE: Here's the statement from Conde Nast
CONDÉ NAST TO CEASE PUBLICATION OF DOMINO AND ITS WEBSITE, DOMINOMAG.COM
New York, NY, January 28, 2009 — Domino magazine will cease publication, it was announced today
by Charles H. Townsend, President and CEO of Condé Nast. The final issue will be published in March
2009.
"This decision to cease publication of the magazine and its website is driven entirely by the economy,"
Mr. Townsend said. "Although readership and advertising response was encouraging in the early
years, we have concluded that this economic market will not support our business expectations."
Domino was launched in April 2005. The magazine's current ratebase is 800,000.
Condé Nast, a unit of Advance Publications, includes twenty-three consumer magazines, Condé Nast
Digital, the Fairchild Fashion Group, Parade, the Condé Nast Media Group, and the Shared Services
Centers.