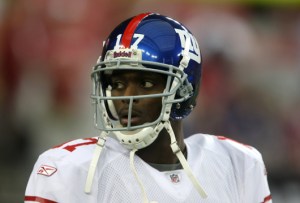 I hope that in about ten years when Pro Football Hall of Fame voters sit down to make their selections, they remember the greatest Giant of them all, Plaxico Burress. Burress is so good that his absence alone was responsible for New York not repeating as Super Bowl champs – which means, by extension, that he must have been the primary reason they won last year. There aren't too many players who are that valuable. 
Myself, I never really thought that Plaxico was that good; good enough to play in the Pro Bowl every other year, maybe, if not to actually start.  Good enough to pick up a Super Bowl ring, though he wasn't the one in the game who made the big catch, the one that turned the game around. But apparently the Giants losing Burress was the major reason they went flat from December on, including their 23-11 loss in the divisional playoff game against the Philadelphia Eagles last Sunday.
Philip Bondy in Monday's New York Daily News was typical: The obvious problem with the Giants offense was "No Plaxico Burress. No big-play wide receiver outrunning and outreaching defenders downfield."   You could throw a dart at a New York sports pages and have a 50-50 shot at hitting a similar comment.
Plax was having a very good year when, with one bullet, he shot himself in the leg and the foot:  35 catches for 454 yards, 13.0 yards per catch, and four touchdowns. But nothing in those numbers was extraordinary, and nothing in them projects to All Pro or MVP status over an entire season.  All year long the Giants pounded the ball at their opponents, mostly with running backs Brandon Jacobs and Derrick Ward, leading the entire league in rushing yards and in average yards per rush. Does anyone really think that the Giants were able to establish the league's best running game simply because Plaxico Burress was flanked out wide? I guess some do.
The strength of the Giants was said to be their superb offensive line, with two Pro Bowl starters and two others who received All Pro mention. Were the Giants' blockers so good simply because they played on the same field as Plaxico Burress?  Was Burress such a great blocker that he could have prevented Eli Manning from being sacked eight times against the Dallas Cowboys on December 14? Looks like it.
Plaxico Burress led Giants receivers in yardage gained in just three games this year, but who's counting?  Apparently we are now to believe that enemy defenses were so flustered just to see him in uniform that he was the reason all the other Giants receivers were getting free, including Domenik Hixon, who averaged 13.9 yards per catch, higher than Burress, and tight end Kevin Boss, who led with six touchdown catches.
Does anyone really think that not having Burress in the lineup is the reason that Eli, a fifth year professional, couldn't connect with any other receiver in a key situation in the biggest game of the year? Or is David Tyree's injury going to take the hit for that one?
Based on most postgame punditry, Burress's importance to the offense was so critical, one must assume, that the Giants were barely able to scratch out an offensive touchdown against their archrivals, the Eagles and Cowboys, during the first two games of December. His influence must have also extended to their defense, since the Giants allowed an average of 22 points per game from the first week in December through last Sunday. If Plaxico hadn't shot himself, we must conclude, the Giants defense wouldn't have allowed Donovan McNabb to make five key third down conversions in the second half.
With Plaxico Burress in the lineup against the Eagles, would Eli Manning have remembered what he was taught from high school on, that when you run a quarterback sneak you put your head down and drive low? (Just look at a still photograph of the most famous quarterback sneak in NFL history, Bart Starr's against the Dallas Cowboys in the 1967 Ice Bowl.) And if Burress had been there, we imagine, Brandon Jacobs would have run straight ahead instead of turning wide on another critical fourth down play. 
When the rubble is sorted through, it will be determined, I think, that the New York Giants disintegrated over the last month of the 2008 season for a number of reasons:  a lack of concentration, a lack of purpose, the failure of Manning to develop as a quarterback, and, just perhaps, because the team that won the Super Bowl after barely outscoring its opponents in 2007 was just plain lucky that year.
I don't know which is the primary reason the Giants fell apart; more than likely it's a combination of all of the above, with the most weight on the Eli Manning problem. But I'm fairly certain that the least plausible reason was not having Plaxico Burress, whose flakiness and general lack of commitment were making unwanted headlines long before he fired the shot heard around the league. If the Giants don't understand this, they're going to make a big mistake in dwelling on the need to have him back next year instead of finding a receiver who can replace him with the same effectiveness and a fraction of the distraction.