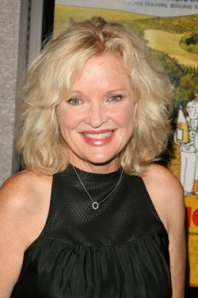 Christine Ebersole
Café Carlyle
Unlike everything else in the world right now, the stock benefits derived from watching Christine Ebersole do not depend on market stability. Even in times of stressful economics, she's a bargain at any price. On the heels of her Tony-winning triumph in Grey Gardens and her recent CD with Billy Stritch, this superior talent who took so long to hit the top that you could call her a late bloomer and mean it now graces the 42-cent-stamp-size headline space at the cozy Café Carlyle with a new nightclub act so terrific it has already been extended to Feb. 11. After the horrifying way Aretha Franklin mauled "My Country, 'Tis of Thee" at President Obama's inauguration, you appreciate the sound of a real voice even more. Unfortunately, most people don't know one when they hear one. This is all the more reason to hasten to the Café Carlyle on one of these cold winter nights and learn something.
Here is a blond baby doll Dorothy Parker might have dreamed up in a short story—a cotton-headed showgirl with a voice as golden as her hair who can sail onstage to the frantic tempo of "Fascinatin' Rhythm" and play a muted trumpet solo with her mouth, then segue to the seldom-heard verse of Rodgers and Hart's "I've Got Five Dollars" that provides an antidote to Bernie Madoff ("Mr. Shylock was stingy/ I was miserly too … Oh dear it's queer/ What love can do …") Delving into the bottom drawer of her lush lower register (something she should ditch the high-altitude calisthenics and do more often), she turns "Miss Johnson Phoned Again Today," a jazz classic Jeri Southern used to sing, into pure heartbreak. On jazz, ballads or arias, she grabs the mood and meter of a song and holds on to it like a fluffy shitsu with a bone.
In rare moments of calm, Ms. Ebersole serves well-timed personal diary entries from her life at home with her husband, three kids, three dogs, three cats, one goldfish and her mother in a house in Maplewood, N.J., where she cooks six breakfasts every morning before she flags the 7:45 bus to New York for rehearsals on the forthcoming Broadway revival of Blithe Spirit, co-starring Angela Lansbury, who feverishly joined the applause on opening night. There's no time for the mind to wander. Ms. Ebersole floods the room with music and fills the spaces with laughter. From her strong, tremulous soprano on "Bill" to her own comic spin on "Cooking Breakfast for the One I Love," Billy Rose's ode to Fanny Brice, she turns each song into an enticing narrative, acting out the subtexts. Her audience is so hip that if she forgets a lyric, they pitch right in. They also roar at every funny line when she shares a woeful tale of losing a goldfish at Christmas. It's name was Money, and "watching Money go down the drain" got a big laugh. Apocryphal, probably, but a great reminder of the economic abyss we're in, and a perfect lead-in to "I Can't Give You Anything But Love," which next to "Brother Can You Spare a Dime?" is the best empty-pockets lament of all time. She opened on inauguration night, which made Stephen Foster's "Hard Times Come Again No More," written 150 years ago, sound contemporary as a Wall Street bailout.
Directed by Scott Wittman and accompanied by John Oddo, who was Rosemary Clooney's pianist-arranger for many years, Ms. Ebersole has a versatility and musical range so broad that she can belt with the strength of a Broadway diva projecting to the mezzanine, or smoothly negotiate the lyrics of a tender ballad like she's ironing out the wrinkles in pure velvet. Unlike the usual finger-popping gold diggers who race their way through "42nd Street," she turns it conversational, painting the portrait of a tired showgirl taking you on a tour of the gaudy, bawdy Times Square that used to be. Wrapping it up with a salute to the late Eartha Kitt, the Carlyle's resident femme fatale, she's as playfully seductive on "Monotonous" as Eartha Mae herself.
If I have one grouse, it's the annoying (but only occasional) moon trip she takes to prove she could play the Metropolitan Opera if she so desired. Audiences will always yell and stomp if you aim for a B above high C, but the 1911 Victor Herbert coloratura soprano sendup "I Want to be a Prima Donna" is the worst thing in the act, and a waste of valuable time. Especially when everyone wanted to hear "Another Winter in a Summer Town," Ms. Ebersole's 11 p.m. showstopper from Grey Gardens. (One fan even called it out as a request, which was icily ignored.) Ms. Ebersole is so much better when she sings in her warm lower register without showoff pyrotechnics that fail to properly show off her real strengths in the first place. But why quibble when the rest of the act is so masterfully above reproach? With Christine Ebersole, your investment pays off.
rreed@observer.com