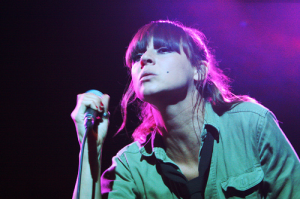 Anyone anywhere who thinks they know anything about New York City can tell you that Brooklyn is dead–especially Williamsburg, but especially everything surrounding the first two L-train stops. 
But last night, fulfilling every fantasy you ever had about what Brooklyn was like back before you could grow your mustache, back before you knew the difference between Bedford Avenue and Westchester's Town of Bedford, the genuinely wonderful chanteuse Cat Power somehow played in the small back room of a bar on Union Avenue.
It was like seeing Joni Mitchell sing some tunes in a living room in Los Angeles in 1978, back when everyone was complaining about the city's descent into an over-tanned, over-cocained Fleetwood Mac theme park. The only difference is that late-70s Joni Mitchell involved weird jazz-fusion and Chaka Kahn back-up vocals. But Cat Power–the crowd knew her real name, Chan Marshall, and they called it out–played at Union Pool with her Dirty Delta Blues (though no drummer), with as much throbbing, throttling oomph that her pretty, bony songs could possibly allow.
Technically, everyone was there to celebrate William Van Meter's new book, Bluegrass: A True Story of Murder in Kentucky, but the swoons were for the music. Cat Power, one hand behind her back, knees bent, eyes closed, neck veins popping, put on a show that made an entire borough seem lovely again.
Among other things, there was Moby Grape's "Naked If I Want To," played like Art Tatum covering Tom Waits, and then, wouldn't you know it, a version of Joni Mitchell's "Blue," which, even without a drummer's help, built up from skeletal to tectonic. Afterwards, everyone went back to loathing Brooklyn again.