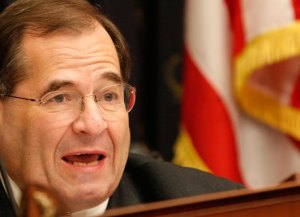 Monday and Tuesday were busy for U.S. Representative Jerry Nadler. The verbose Upper West Side Democrat was rushing around the Capitol between committee hearings and meetings, trying to persuade his colleagues to add to the economic stimulus bill before it advanced.
The reason: too many tax cuts, not enough infrastructure spending, and he wanted an amendment calling for $3 billion in additional transit money.
"Too little of what we're spending is for infrastructure and, in particular, mass transit," Mr. Nadler said. "You've seen more and more attention paid to tax cuts, and I think it's a mistake."
When first discussed by top Democrats after the election, the planned stimulus measure was described in grandiose terms as a package reminiscent of the New Deal or Eisenhower Interstate Highway system. It would bring aging infrastructure into the 21st century, done in an environmentally friendly manner that creates millions of jobs and provides a quick, crucial jolt to a sagging economy.
But as details have gradually emerged on the plan, now at $825 billion, some water has been thrown on that vision. Tax cuts have taken up a large portion of the plan, and, at least in terms of infrastructure and transportation, what's emerging is a package that disperses extraordinary levels of spending on less than extraordinary projects: road paving, bridge repair, water treatment plant upgrades, sewage system repairs, school reconstruction.
For now, the stimulus' exact details are unclear, as the Senate and House are only just starting debate on their respective bills. But, in terms of infrastructure spending, the two chambers have very similar numbers in their bills, and with resistance from Republicans over the amount of new debt, it's hard to see a situation where much spending gets added into the legislation.
Based on information released by key committees, the Senate and House bills each would spread tens of billions of infrastructure dollars separated into various categories, in large part giving the money to city- and state-run agencies to choose specific uses. Much of the money that would come to New York would arrive not by earmark, but by standard distribution formulas for areas such as highway aid and public housing subsidy.
Under the terms of the House bill, for instance, New York State and City would receive $1.35 billion of the $30 billion meant for highways and bridges nationally, and $856.8 million of the $6 billion meant for mass transit (the bulk of the transit money would go to the M.T.A.).
Restrictions that projects be "shovel ready" within 90 to 180 days of the legislation's passage tend to bar any sort of visionary thinking, instead summoning lengthy lists of projects that have been in the works for many months or years already.
Some samples of qualified projects, per state and city documents, seem less than inspiring, albeit needed and beneficial: $16.5 million for pavement maintenance citywide; $80 million for interchange improvements and bridge rehab on the Grand Central Parkway; $72 million for the Department of Education to replace asbestos-tainted floor tiles; $175 million for new ramps at the Staten Island Ferry Terminal in St. George. In an M.T.A. statement of potentially eligible project types from the fall, the agency listed station rehabilitations and bridge painting, among other possibilities.
In all, the city, state and M.T.A. seem poised to get transportation and infrastructure money that would, in large part, help pave and renovate far more than expand and innovate, as the federal goal is to quickly create jobs and spark private spending.
LOCALLY this reality of an infrastructure stimulus marked by mostly modest projects seems to have a number of faults, drawing criticisms from transit advocates to fiscal hawks to Democratic elected officials. Above all else, the major directives set by the Obama administration for the stimulus—to immediately create jobs and get cash flowing—simply do not allow for big dreams and transformative initiatives, instead encouraging the more mundane projects that ultimately do less for the economy 10 or 20 years out.
"The two goals of providing immediate economic stimulus and long-term, transformative change to the American economy do not really overlap very much," said Anthony Shorris, a former executive director of the Port Authority. "Those of us who were looking to the package to include the kinds of projects that would fundamentally change our lives—the way people move, the way power is generated or the quality of our water—in the end had to confront the reality that those kinds of projects do not appear overnight."