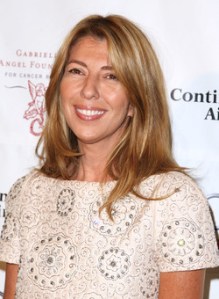 The last time we spotted the cameras filming Running in Heels, the Style network's new reality show about Marie Claire magazine, the crews were imposing on guests at the October opening of the Comptoir des Cotonniers store in Soho. 
The whole thing was rather confusing. The cameras were following Marie Claire editor-at-large Joyce Corrigan, who was covering the event with a tragically overdressed intern in tow. The editor and her intern interviewed Susan Sarandon, mingled, and eventually headed outside, where the intern proceeded to fake-cry in the middle of the street, confusing the concerned-looking passersby. We couldn't figure what, exactly, this show was going to be about.
But today the Style network gave us a little more insight as to what we can expect from the first season, which premieres on March 1. In a release, the network described the show as an eight episode docu-series in which viewers will get "special access" to editorial meetings, celebrity photo shoots, Fashion Week parties, runway shows and the private lives of editor-in-chief Joanna Coles, senior fashion editor Zanna Roberts, and shopping editor Zoe Glassner. And they've even named the interns: Ashley Gosik, Samantha Dezur, and Talita Silva.
Here is a description the network gives of the poor things: 
Ashley is a self-proclaimed over-achiever from Washington D.C. who is determined to prove that she can out perform the other interns. Talita, a "fashionista" from Los Angeles, considers herself very street smart but drops the ball on her first assignment. And Samantha is the small-town girl from Wisconsin, who has never set foot in NYC and is new to the fashion world, but wants real-world experience working for a major media outlet. 
The first episode promises to follow the interns as they move in together in a New York apartment and arrive for first day of work. Meanwhile, Ms. Coles will be shown at home getting her family ready for the day before heading into the office to meet her new interns. And into this scene arrives former Elle fashion director and Marie Claire new-hire Nina Garcia.
"Things are very busy for the magazine's staff who, in addition to planning coverage of this year's runway shows," reads the release, "are busy planning a star-studded welcoming party to celebrate the arrival of new fashion director Nina Garcia."
If we learned anything from watching The City and Stylista, by "celebrate the arrival of," they mean that Marie Claire editors will organize an underwhelming party where Ms. Garcia will hate everything and the other editors shoot her dirty looks of jealousy.