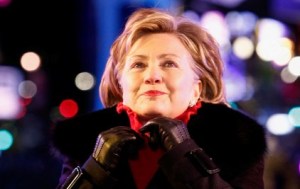 In a one-sentence letter sent to David Paterson and Joe Biden, Hillary Clinton resigned her Senate seat, according to a release from her office.
"This letter is to inform you that I resign my seat in the United States Senate effective immediately in order to assume my duties as Secretary of State of the United States," she wrote.
Clinton was sworn-in to her new post at 5:29 p.m. by her childhood friend, Associate Judge Kathleen Oberly of the District of Columbia Court of Appeals.
For the event, they used a bible that once belonged to Clinton's late father.
The event took place in Clinton's Russell Senate Office, and was attended by Bill Clinton, Hillary's Washington staff, and, according to another source, Representative Anthony Weiner.