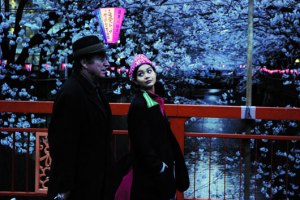 Cherry Blossoms
Running time 127 minutes
Written and directed by Doris Dörrie
Starring Elmar Wepper, Hannalore Elsner, Aya Irizuki, Maximilian Brückner
Doris Dörrie's Cherry Blossoms, from her own screenplay (in German and Japanese with English subtitles and a smattering of heavily accented English dialogue by German and Japanese characters), is freely acknowledged by its writer-director to have been inspired by Yasujiro Ozu's Tokyo Story (1953), though it takes off on a movingly original tangent of its own to be perhaps the first great movie of 2009. Its subjects are married life, love and death seen through the prisms of two cultures and landscapes, German and Japanese, with extensive footage shot in both countries.
In her Director's Statement, Ms. Dörrie defends her largely improvisatory approach to her material with a lucid prognosis for the final result: "With this story I tried to investigate serious questions about love and loss in a hopefully lighthearted way: Does impermanence teach us to see things the way they really are? Is it possible to enjoy the present moment in the face of death? What makes us blossom? What makes us wither? How can we water our seeds of joy? We tried to apply these questions not only in the story but also to our way of shooting. We tried to discover beauty in each moment and let it pervade the story. For all of us, the blend of reality and fiction was strangely exhilarating. It was as if the line between waking and dreaming had been blurred and it wasn't quite clear where we were, but at all times we felt much closer to the essence—and I think this shows in the film."
The picture begins on an ironically mordant note in a doctor's office where Trudi (Hannalore Eisner), an older married woman, is inquiring about some tests her husband, Rudi (Elmar Wepper), has taken. The consulting physician tells Trudi in not so many words that her husband is gravely ill, and it is his suggestion that it would be wise for the couple to take any long-deferred trips they had always wanted to take. Trudi responds with affectionate amusement that Rudi had never particularly yearned for adventure in their shared life together, being content to follow the same daily routines year after year. Indeed, Rudi is less than enthusiastic about Trudi's practice of Butoh, a Japanese hippie dance discipline reenacting the rituals of death, mourning and resurrection through remembrance. Actually, Rudi is so disturbed by the grotesque faces Trudi makes for her Butoh lessons that she discontinues them.
Nonetheless, Trudi finally convinces Rudi to leave their home in Berlin to visit their children and grandchildren on the Baltic Sea on their way to visit their son, Karl (Maximilian Bruckner), in Tokyo. Here the resemblance to Ozu's Tokyo Story becomes more pronounced, in that the children have drifted apart from their parents, and can't wait for them to leave.
But in the midst of their visit, it is Trudi who unexpectedly dies in her sleep. The devastated Rudi decides to take the trip to Tokyo alone to fulfill Trudi's dream of a journey he had somehow always discouraged her from undertaking when she was alive. In another nod to Ozu, Rudi discovers that Karl is living in a tiny apartment, a sign that he is not doing as well as he had always pretended. On a visit to a Tokyo park, Rudi is beguiled by a young Butoh dancer named Yu (Aya Irizuki), who communicates with her dead mother with two connected pink phones. Using English as their lingua franca, Rudi and Yu become close friends. But Rudi is ultimately obsessed with reuniting spiritually with his dead wife, going so far as to wear her clothes and take up Butoh in full clown's whiteface makeup. The climax of Rudi's quest provides one of the most exquisite unions of souls in the history of cinema.
Ms. Dörrie's own life follows some of the same trajectories as that of Rudi and Trudi. Like Rudi, her own spouse died before she could share with him her own ecstatic discovery of Japanese culture. Ms. Dörrie has also been astute enough to note that like Ozu's Tokyo Story, her own film was inspired by Leo McCarey's 1937 masterpiece, Make Way for Tomorrow, about an old married couple, played by Victor Moore and Beulah Bondi, who are shunted from one unappreciative grown children's family to another. It is a seldom-told story in an essentially youth-oriented, escapist movie industry, but when it is told sublimely well, as it is by Ms. Dörrie now, and by McCarey in 1937, and by Ozu in 1953, it becomes a film for the ages.
asarris@observer.com