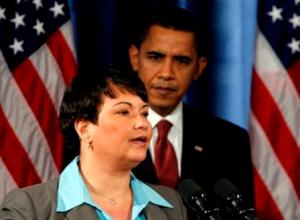 U.S. Environmental Protection Agency administrator Lisa Jackson has been granted cabinet level status in Barack Obama's administration – as Christie Whitman when George W. Bush was President. But the EPA is not a cabinet level department and Jackson will lack some of the legal duties of a cabinet member. Jackson is not in the line of presidential succession and would not have a vote if the cabinet discussed invoking the 25th amendment.
The last New Jerseyan in the line of succession was Michael Chertoff, who was 18th during his tenure as U.S. Secretary of Homeland Security.
Click here to view a list of New Jerseyans who have served in the President's cabinet.