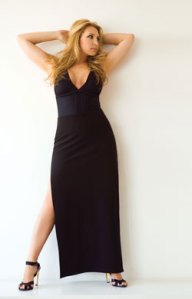 Eliane Elias
Dizzy's Club Coca Cola

Eliane Elias. Remember the name, because you're going to be hearing it a lot. This Sao Paulo–born New York resident, who is keeping lush Brazilian jazz alive in a rainbow of colors in this 50th-year anniversary of bossa nova, just got the new music season off to a dazzling start. The standing ovations in last week's gig at Dizzy's Club Coca-Cola coincided with the release of her new Blue Note CD, Bossa Nova Stories. Anticipate rapture.
Why Ms. Elias is not a much bigger star outside the enclave of jazz insiders eludes me. She looks like Gloria Steinem in her Playboy bunny days, plays like the late, great Bill Evans and sings in warm, dreamy tones like Julie London cross-pollinated with Chet Baker. I hadn't found a combination of this many thrills in such a long time that I had given up trying. With sharp virtuosity and keen musicality, she melds samba rhythms on "Tangerine" like hip movements in a tango, then negotiates throbbing shifts in time and tempo on classics by Jobim, Joao Gilberto and Ivan Lins that make them sound brand new. On Caetano Veloso's "A Ra" ("The Frog"), her left hand swings in fractured fifths while her right hand pounds out the melody. Or is it the other way around? I was too busy watching her give herself to the music like a woman in love to tell. When the shoes come off, the piano pedals haven't got a chance. Pouncing gingerly on all the right notes, she makes Gershwin sound like Jobim. Shifting keys and swinging in chords, she turns Geraldo Pereira's "Falsa Baiana" into a riff of
 Miami, Copacabana Beach and boogie woogie. The Bill Evans influence is evident on the gorgeous "Estate"; after she migrated to Manhattan, she married Evans' bass player, the dexterous Marc Johnson, who accompanied her on the new CD and in her Jazz at Lincoln Center gig (along with guitarist Ricardo Vogt and volcanic drummer Rafael Barata). Watching their faces as she ran her agile fingers across the keys in a multitude of tempos was as invigorating as listening to the varied musical brush strokes she paints. Every expression is opinionated and radiates personality. Her voice is so tender and supple that you don't just hear her sing the lyrics; you see her feel them. Even her earlobes seem to smile.
Eliane Elias may be celebrating her native Brazil, but there's none of the cultural isolation you sometimes get from listening to songs in Portuguese. She can be lusty and discreet, openly hip and lazily reflective. She can make you sway and reduce you to tears, often simultaneously. She is not, God forbid, a lounge act. There is nothing mechanical about what she does, or how she affects an audience. But she achieves a haunting intimacy that is never ponderous. And she can swing. Grab her last CD, a moody tribute to Bill Evans, with rhythm and strings. And rush to find her new one, Bossa Nova Stories, aptly named because her songs build narratives, like short stories. Bossa nova is alive and well, thank you very much. When I was in Rio, I couldn't find it anywhere except the Carmen Miranda museum. But right here in little old New York, in the custody of Eliane Elias, it fairly glitters.
rreed@observer.com