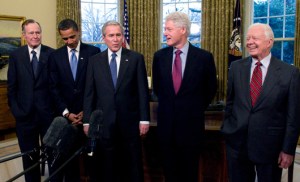 So maybe Barack Obama doesn't think Jimmy Carter has cooties after all. The soon-to-be-president broke bread and shared the Oval Office stage with Carter on Wednesday. Granted, two other former presidents, George H.W. Bush and Bill Clinton and George W. Bush were also present, but it nonetheless marked the first time in the nearly two years since Obama launched his presidential campaign that he was willing to be so closely associated with the 39th president.
And, almost certainly, it will be the last time for the foreseeable that the two are seen together.
Carter's isolation from Obama is no accident. It used to be that just about any Democrat thinking of running for president would make an obligatory pilgrimage to Plains to pick the brain of the man who achieved what virtually no other Democratic presidential candidate since Lyndon Johnson could: victory. As recently as 2004, when Howard Dean showed up in Plains two days before the crucial Iowa caucuses, a simple photo-op with the former president was an unquestionable asset for a Democratic candidate.
Read the rest.