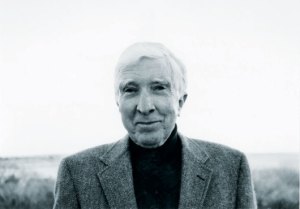 John Updike realized New York City was too small for him shortly after his second child was born. The family's two-room apartment on West 13th Street just wasn't going to cut it, he realized, and so, in a fit of what he would later call inspiration, he picked up and moved to Ipswich, Mass. He'd been working at The New Yorker for two years at this point, writing for Talk of the Town. It was fun, but he was sick of being in a place so full of other writers and wanted out of the "seductive hurley-burley," as he put it to The New York Times' Charles McGrath late last year.
"I think he thought it was cramped here," said Robert Silvers, the editor of The New York Review of Books, where Updike published about 75 essays and art reviews.
Or, as New Yorker editor David Remnick explained, "He didn't want to be at book parties at 6:30 on a Thursday evening."
There were his wife and kids to consider, too.
"He left because he didn't think it was a place to bring up a family," said Judith Jones, who edited Updike at Knopf for more than 50 years. "It was expensive, and, you know—you could find better public schools outside of New York. As a boy from Shillington, Pennsylvania, he always had a respect for small-town America and what that gave him growing up. And I think he wanted the same for his kids."
Still, Updike didn't leave New York behind for good when he moved to Mass.; he took regular trips to the city—to review an exhibition for The New York Review of Books, to visit with his friends at Knopf, and, once a year, to attend the annual meeting of the American Academy of Arts and Letters.
"He loved New York," said Ms. Jones. "He loved it when he came down and he always felt a sense of exhilaration. It was a lark for him to be here—just walking down the street, and noticing everything. We'd go out to lunch, but he really would have preferred for me to take him to the Knopf cafeteria because then he could observe what life was like in a big office building, and what people were eating and what the girls were wearing. That part of it he loved, much more than going to some tony place."
"He saw it as a kind of adventure," Mr. Silvers said of Updike visiting the city. "We sometimes arranged a plane ticket for him, and he'd take a taxi and go to the museum. Sometimes I would join him at the opening or whatever it was. We went to the Jackson Pollock exhibit at the Museum of Modern Art—we went to quite a few."
Sometimes they'd walk around and look at the art together, Mr. Silvers said, but most of the time Updike would split off on his own and scribble in his little notebook.
"I didn't want to disturb him," Mr. Silvers said. "My own thought was that he was concentrating on the paintings. Now and then we would chat about them, but he was basically very intensely concentrated on looking at these pictures."
Usually he'd circle around several times, and eventually fly home. "In a few days, he would produce a review of three to four thousand brilliantly written words," said Mr. Silvers.
"[Updike] had great zest for these exhibitions," he added. "Alas, just recently we were all ready for him to come down to do the Miró show at the Museum of Modern Art, and he was very keen to come, and then he rang and said, 'I'm so sorry, I have got this I-don't-know-what-it-is, it seems like a kind of pneumonia, and the doctors say I shouldn't come down.' And so I couldn't have understood more, and it turned out this was the beginning of this terrible illness. He was looking forward to it. We'd sent him half a dozen books, and we'd talked about it. That was our last plan."
lneyfakh@observer.com