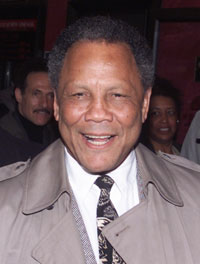 The New York Times' Richard Goldstein reports that former light-heavyweight champion and author José Torres has died in Ponce, Puerto Rico. He was 72-years-old.
Mr. Torres, whose professional heyday was between 1958 and 1969 (YouTube has a couple of clips: Torres v. Carl 'Bobo' Olson in 1964; Torres v. Willie Pastrano from 1965) and went on to become the chairman of the New York State Athletic Commission from 1984 to 1988. According to Mr. Goldstein, Mr. Torres was "the first former professional boxer and the first Latino to head the agency, which oversees boxing in the state."
Outside of the ring, Mr. Torres was an author. In 1971 he wrote Sting Like a Bee: The Muhammad Ali Story and Fire & Fear: The Inside Story of Mike Tyson from 1990, which formed the basis for the 1995 TV movie Tyson, which we mentioned yesterday in a post about David Carr's interview with Mike Tyson.
Mr. Torres was also close friends with Norman Mailer. The boxer was among several "friends"—including Norman Podhoretz—to whom Mr. Mailer dedicated Why Are We in Vietnam? in 1967 and appeared in Mr. Mailer's 1970 experimental movie Maidstone.