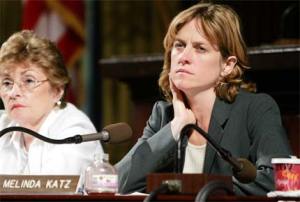 In the latest six-month filing period, City Councilwoman and comptroller candidate Melinda Katz spent eight times more money than she raised.
Between July 12 of last year and now, Katz raised $19,068, and spent $163,418, according to her filing with the city Campaign Finance Board.
"Spent money in this cycle that I won't have to spend in the next cycle," said Katz in a brief telephone interview. She said most of the money went towards establishing her campaign's infrastructure.
The expenses include thousands of dollars to pay consultants, including some at Glover Park Group; the Maccabee Group, a Washington D.C. public relations firm, and campaign aides. There was also $250 spent on photographs.
Katz said she paused her fund-raising efforts around the time the term-limits law was changes, because there was uncertainty about whether the current comptroller, Bill Thompson, would proceed with plans to run for mayor.
"When the world was so unsure, I thought it was unfair to call people and ask for money," she said. That doubt has been sufficiently eliminated, she said. "Yeah, he's running for mayor."
Katz also said that she and her two other opponents will all reach the maximum amount of money allowed to be raised for the race, and that the only question will be when they reach that limit. "We'll be done by March," she said.
Over the same period of time, Katz's colleague from Queens who is also running for mayor, David Weprin, raised $163,560 and spent $117,086. Paperwork for the third comptroller candidate, David Yassky of Brooklyn, has not been posted on the board's web site.
Overall, Katz has raised $2,135,040; Weprin has raised $2,062,248. Total numbers for Yassky were not available on the site yet.