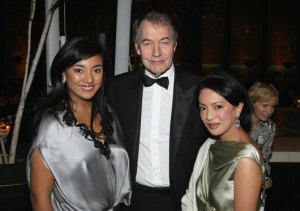 On Monday, Jan. 12, at a black tie "Earth Awards" gala honoring eco-friendly innovations at the Four Seasons restaurant, a crowd of environmentalists, socialites, fashion designers and Malaysian royals (the affair was underwritten by the Malaysian government) munched foie gras and sipped champagne before dinner in the Pool Room.
"I'm a fellow Malaysian, so I have to come and support the event," explained the compact, genial designer Zang Toi, accompanied by a model in a floor-length cape adorned with glittering cut-outs of the New York skyline (a look from his spring collection, he explained).
He's still working on making his designs eco-friendly. "Not yet, I'm ashamed to admit it, but soon. They were trying to get me to do it last year, but I was traveling so, so much…"
In the meantime: "I try to walk as much as I can. I almost never take a car unless I have to, like tonight's cold… Even on the weekends if I'm not in a hurry I walk! I was having dinner with two friends at Indochine all the way downtown by Astor Place, I walked all the way down to dinner, it took me about an hour to walk all the way home to the Upper East Side. I think I did my part."
Blonde stylist and socialite Kate Schelter was chatting with Aimee Mullins, the model, actress and double amputee, who was resplendent in a pale blue Yigal Azrouel gown. "I recycle, I wash my hair about once a week, which I think saves electricity and shampoo," said Ms. Schelter, of her own personal eco-initiatives.
The women agreed that living in New York tends to make one eco-conscious. "Let's say this, there's not rooms in my apartment that I'm not in where the electricity could be on," said Ms. Schelter. Ms. Mullins, meanwhile, had gotten her entire East Village apartment building to start recycling.
Later, Four Seasons co-owner Julian Niccolini explained what he does for the earth. "The only thing I really do for a living besides working at the Four Seasons and running this place, I raise… I make honey. I have hives, I live up in Westchester, and that's what we basically do. We make quite a bit of honey in the summertime. Last year we were selling at Dean & Deluca. This year, because I only make like 180 bottles, 180 liters-which is still a lot of honey-I sell it mostly at the Four Seasons. And people love it. Everybody's constantly asking me for more."
He produced a plastic container labeled "Bee Naughty" honey, illustrated with a cartoon rendering of himself. 
"In the Grill Room we are sold out every day," he continued, disputing suggestions that the economy had put a damper on power-lunching. "In the Pool Room it's much less so, but at the same time we have introduced a $59 menu, because this year is the Four Seasons' 50th anniversary." (They couldn't do a $1,959 menu, he clarified).
Charlie Rose, the evening's emcee, breezed by. "Two meals today," he said to Mr. Niccolini, holding up two fingers.
"Lunch and dinner's enough today!" echoed Mr. Niccolini with a laugh.
"This is a nice event," Mr. Niccolini concluded, surveying the room. "Lots of attractive people."