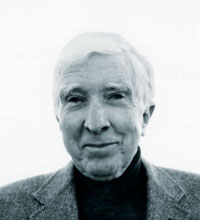 Adam Begley looks at the work of John Updike and shares some personal memories of the man. Leon Neyfakh talks with the writer's friends and colleagues and James Kaplan tells of his own 1990 Updike encounter. Plus: An Editorial Remembrance
Leon Neyfakh wonders Why Do Young Male Writers Love Icky, Tough Guy Deadbeats?
Felix Gillette writes about CBS News producer Susan Zirinsky, the inspiration for Holly Hunter's Jane Craig in Broadcast News.
Plus: Joel Lovell, GQ's Anti-Jim Cramer… Andrea Mitchell: Gay Icon… The Hipster Rent Boys of New York.