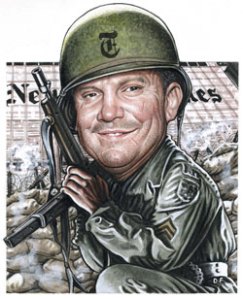 Who are this year's Media Mensches? Meet The New York Times' Arthur Sulzberger, Jr., Union Square Ventures' Fred Wilson, director Errol Morris, Farrar, Straus, and Giroux's Lorin Stein, and 60 Minutes' Jeffrey Fager.
Felix Gillette looks at CBS News correspondent Mark Phillips, "a seasoned, London-based reporter. But he is also—thanks to the thinly spread news-gathering operations at CBS News—the lead reporter on most of the network's stories in Israel. It's a beat that spans more than 2,200 miles."
Leon Neyfakh writes, "Drenka Willen was just one of many individuals—including one woman seven months pregnant and another on maternity leave—to be hastily laid off last month from Houghton Mifflin Harcourt amid budget cuts. She is, however, the only one among them whom the severely troubled company's CEO, Tony Lucki, has since asked to please come back." Plus: Baker Blitzes Bush Fam for Bloomsbury, Has Big Bash!
John Koblin checks in with Condé Nast and its chief Si Newhouse (not his brother Donald, as the photo in our print edition suggests) , where "This was a particularly nervous holiday season—what would Si do in this scary, unprecedented, in-the-toilet media year?" Plus: Change We Can Subscribe To.