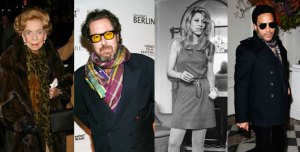 Last February, the yellow-spectacled artist Julian Schnabel finally introduced his meticulous West Village mega-castle, Palazzo Chupi, to the world. He allowed Vanity Fair to do a Chupi spread (his friend Ingrid Sischy wrote that Mr. Schnabel's work was like Giotto's, but with cast-concrete kitchen countertops dyed chromium-oxide green), and Chupi's $32 million triplex penthouse and $27 million duplex were officially announced a few days later.
It's been almost a year, and those two listings are being handed this week to what's now Mr. Schnabel's third brokerage. The units that once cost $59 million together will be only $41 million: The penthouse is asking $22 million, down $2 million from its most recent asking price; the duplex is asking $19 million, down $4 million.
"Those were just the numbers that came about; there wasn't a lot of discussion," Peter McCuen, the latest listing broker, said Monday. "There wasn't anything so in-depth about it, really."
Mr. Schnabel's 10,306-square-foot duplex and penthouse belong to a new class of super-luxury real estate in this super-gloomy Manhattan: The eight-digit recession special. Considering the old Chupi tags, you're practically saving $18 million. Step right up.
Sadly, sometimes even the most splendiferous price cuts can't help. It's been three months since a hedge fund manager cut her duplex at 1030 Fifth Avenue to $34.5 million (the original tag was $47.5 million), and two months since the price of Brooke Astor's thoroughbred 14-room duplex at 778 Park Avenue went to $34 million (from $46 million).
While dealing with the global crisis, Astor's son, Anthony D. Marshall, has had to fight charges that he stole from his mother while she was ill; he has pleaded not guilty.
"I understand the economy. I understand what people are thinking. I understand that people are being protective, and they're probably right," his wife, Charlene, said this week. "While we would love to see it sell, we certainly understand what our whole country is going through right now." There won't be any more price cuts, she said: "It probably would have sold like hotcakes at $46 million any other time, don't you think?"
That question aside—and only a small amount of New York apartments have ever sold for over $45 million—the thornier problem is how far high-end luxury real estate has yet to fall from its old bubbly heights, back when a man like Len Blavatnik would buy a townhouse for $31.25 million, then a 14-room Fifth Avenue co-op for $27.5 million, then a second townhouse for $50 million.
Earlier this month, Jane Holzer, once the Warhol star known as Baby Jane, cut the price of her penthouse at the Volney on East 74th Street to $16.9 million, down from its original $22.5 million tag.
"It's starting to look like a value, and if you don't look like a value right now, you're dead in the water," the broker Kirk Henckels, who has seen the apartment, said this week. "She put her life and soul in this apartment. It was her baby. Oh! No pun intended."
But Ms. Holzer's cuts weren't as deep as Victor "Tory" Kiam III's. Last Tuesday, Mr. Kiam, the son of the late Remington razor mogul, cut the price of his unrenovated 630 Park Avenue penthouse in half, from $17 million to $8.5 million.
In the meantime, Mr. Kiam has a sprawl in 1133 Fifth Avenue that he bought for $24 million in 2006. That year, Tim Grumbacher, the executive chairman and ex-CEO of the Bon-Ton department store chain, bought a $10.9 million apartment in the same building; Bon-Ton's stock has since gone from $25 to $1.33 a share. His co-op went back on the market last May with a $19.5 million tag, which went down to $17.5 million, then $15 million, and then $10.9 million—the purchase price.
Late last week, the apartment went to contract, according to listing brokerage Brown Harris Stevens. Depending on the final sales price, and on how much renovations cost, his family will have lost a serious amount of money on a serious apartment in an Emery Roth–built co-op.
Tracking the falling price tags of apartments like Mr. Grumbacher's is like watching the end of the world: Bruce Lisman, the former co-head of global equities for Bear Stearns, has cut his sprawl at 923 Fifth Avenue from $22.5 million to $19.75 million to $18.95 million to $16.75 million. Meanwhile, Palazzo Chupi's triplex penthouse went from $32 million to $29.5 million to $24 million to $22 million.
But some price-cutters still have their dignity. The middle-aged rocker Lenny Kravitz, according to his broker, is now refusing to compromise with potential buyers because of his series of hefty cuts at 30 Crosby Street.
"It's not negotiable at all at this price; it's a great deal," said Andrea Wohl Lucas, who has been listing the penthouse duplex. In November, Mr. Kravitz's tag arrived at $14,995,000, down from its $19.5 million high point in 2007. "It will sell," she said.
mabelson@observer.com