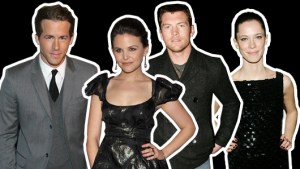 Although watching the hullabaloo before Sunday night's Golden Globes ceremony was more fun than usual—we loved those wild-card moments when Alec Baldwin harassed the tiny Ryan Seacrest about pictures of him "fondling" some woman, and when Mark Wahlberg threw Jeremy "I swear I was mercury-poisoned" Piven under the bus—this year, more than ever, the red carpet proved to us just how in need we are of a new batch of celebrities.
Please let us explain! We were totally happy to see glam favorites like Kate Winslet, Penélope Cruz and—oh-my-goodness-there-you-are!—Sandra Bullock out there doing their thing, and we've made peace with the fact that we will never stop gawking at Brad Pitt and Angelina Jolie smooching in public or Tom Cruise flashing those big-ass teeth. It's just that when we find ourselves groaning (again) at the sight of Renée Zellweger, or covering our eyes at Drew Barrymore's overdone bedhead, or squinting at the small print on our TV set to see just which Jonas brother is which … we feel like Huey Lewis. But instead of wanting a new drug, what we really, really want are some new stars.
Which is not to say that there weren't a few moments of was-that-just-fresh-air-I-felt during Sunday's telecast. Olivia Wilde, from House, strode onto that carpet in a strapless frothy lavender number and stood there unfurled in all her insanely beautiful glory as if to say, That's right … here I am, bitches! Ms. Wilde has two movies coming out this year—a thriller called In NorthWood, and the Harold Ramis comedy The Year One, co-starring Michael Cera and Jack Black, plus—shriek!—she stars in 2011's TRON 2.0. Look out, Angelina, there's another (younger) you on the scene! Similarly, we enjoyed seeing the straight-up-hot Megan Fox (another contender for Angelina's badass-sexpot niche), who has four movies scheduled in '09, including the next Transformers and Juno it girl Diablo Cody's sophomore effort, Jennifer's Body, which co-stars another gal we could stand to see more of, Amanda Seyfried. She was a game performer in Mamma Mia! (we're guessing there was a lot of ouzo ingestion on that set), and she's got the return of HBO's Big Love this month, plus the Lasse Halström–Nicholas Sparks teaming (uh-oh) for Dear John, scheduled to come out sometime this year. But we need, nay, we demand, more! After some serious soul- (and IMDB-) searching, we have some predictions and a few wishes for who else might become household names this year.
Let's start with the ladies. Rebecca Hall had herself quite a 2008. Not only did she manage to give Scarlett Johansson some serious onscreen competition in Woody Allen's (Golden Globe–winning!) Vicky Cristina Barcelona, but she showed up in another awards contender, Frost/Nixon. Currently, Ms. Hall is performing in the Sam Mendes–directed Chekhov-as-done-by-Stoppard play The Cherry Orchard at BAM, and you can look forward to seeing her in four rather awesome-sounding films this year, including Anand Tucker's Nineteen Eighty-Three, a yet-untitled Nicole Holofcener (!) film co-starring Catherine Keener and Amanda Peet (seriously, can we get in line now?), and Dorian Gray, with Colin Firth and Ben Chaplin. Are those Cate Blanchett's footprints she's stepping into? We think so!
Oh-Eight was good to Mila Kunis as well. This chick has been around forever (she played baby Gia to Angelina's grown-up one in 1998's Gia), quietly being funny and hot in That '70s Show, and voicing Meg on Family Guy. But last year's Forgetting Sarah Marshall finally pushed her to the front of the pack, where she trampled all over Kristen Bell. Soon, we'll see her co-starring with Jason Bateman (more on him later) and Ben Affleck in Mike Judge's latest, Extract, and we can look forward to her sharing some screen time with Denzel Washington and Gary Oldman in next year's The Book of Eli. Speaking of footsteps, are those Cameron Diaz's?
Next! Get ready to learn how to pronounce Mia Wasikowska's name. This young, rather ethereal-looking beauty (born in 1990! Ugh!) had a small role in Edward Zwick's Defiance, and played the troubled teen Sophie on HBO's In Treatment. But she made headlines when she snagged the coveted part of Alice in Tim Burton's Alice in Wonderland, due out in 2010, with a supporting cast of Johnny Depp, Anne Hathaway, Helena Bonham Carter, Michael Sheen and Alan Rickman. This year, she's set to play pilot Elinor Smith in Mira Nair's Amelia, currently scheduled for a fall release, with Hilary Swank playing the doomed Earhart, and co-starring Ewan McGregor and Richard Gere.