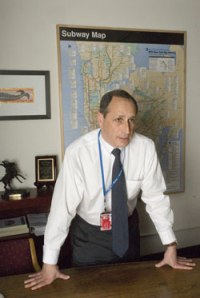 Lee Sander, the M.T.A.'s executive director, this morning at a Crain's breakfast forum (briefly) entertained the possibility that his agency's $1 billion West Side rail yards deal with Stephen Ross' Related Companies could collapse, as the M.T.A. is "involved in very sensitive negotiations" with the company.
"I'm loath to engage in hypotheticals, even though you guys do," he said in response to a question from Crain's editorial director Greg David on the potential collapse of the deal. "I suspect that we would be able to deal with it, but it would not be pleasant, but that's not an outcome we're looking forward to."
Related faces a key deadline at the end of this month to execute a contract to develop over the M.T.A.'s 26-acre rail yards. Related executives have been expressing concerns about financing the deal in today's economy (more on that in a story I wrote in today's print edition) and Mr. Sander certainly didn't make a point to offer reassuring words.
"We are involved in very sensitive negotiations with Related, basically, as we speak, with Steve Ross, and it would not be very good for me to go further than that," he said. "We certainly are aware of what's going on in the real estate market, and some of the pressures that all the real estate companies have encountered. At the same time, we feel very good about what we achieved with Related and so we are having a conversation with them and we will see where that goes."
The M.T.A. is also in negotiations with developer Forest City Ratner, which wants to change the terms of its payments to the agency as part of its planned Atlantic Yards development in Brooklyn. Should that project collapse, the M.T.A. would not get an expected $100 million in payments from Forest City.