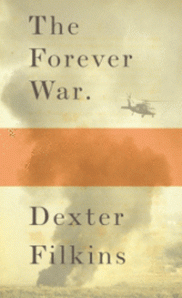 On Saturday night, The National Book Critics Circle announced 2008's finalists for the National Book Critics Circle Awards.
Among the fiction finalists was the late Roberto Bolaño's 2666. In nonfiction, The New York Times's Dexter Filkins was nominated for The Forever War.
In September 2008, Mr. Filkins told The Observer's Leon Neyfakh he wanted his book to show readers:
'What it's like to go to a car bombing. What it's like to see someone die in front of you. What it's like to be shot at and missed. That kind of thing. But more than that, really, the fear, the elation that you can experience in a situation like that—the ambiguity, the confusion. You know, being in the middle of a war is a very intense experience both intellectually and emotionally, and I wanted to try to capture that.'
A full list of the finalists can be found at the NBCC's Web site.