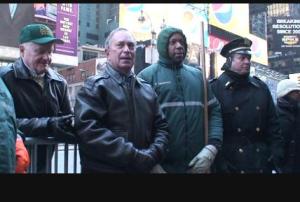 Michael Bloomberg visited two babies born in Queens and declared, officially, that they're both the first babies born in 2009.
He joked, "Some of the papers will find problems with the mayor abusing his authority by doing this. But, you know, that's what leadership is all about."
And: "The City Council will hold hearings, I'm sure."
Before he got to that important business, he thanked sanitation workers who cleaned up Times Square after yesterday's celebration.
Chatting with reporters, he sidestepped questions about Caroline Kennedy, who may have just gained the support of an important ally in Assembly Speaker Sheldon Silver.
"You got to ask Shelly Silver what he really said," Bloomberg said of Silver's supportive comments.
Asked about Kevin Sheekey's argument regarding Kennedy and Barack Obama, Bloomberg said, "You have to talk to Kevin about his comments." He added, "I'm just looking forward to whoever gets appointed by David [Paterson]."
When a reporter asked if Bloomberg thinks Kennedy is "tough enough" to be a senator and capable enough to deal with the media, Bloomberg laughed and said, "You talk about her everyday, so, you'll have to talk to Caroline. She is perfectly capable of speaking for herself."
Other highlights:
The mayor said his deputy spokesman Jason Post "saved" his life last night by lending him earmuffs.
Diana Taylor told me the brown gloves she was wearing today weren't the ones the mayor bought her at Queens Center Mall recently, explaining those other gloves are her "dog walking gloves."
Bloomberg said he dropped the ball in Times Square with Bill and Hillary Clinton, and "we went out for a drink afterward." He added, "We did not talk politics. We did not talk foreign policy. We talked about all the good things in life."