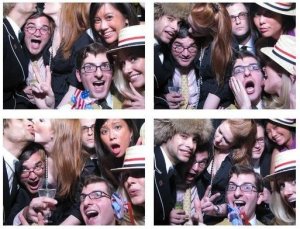 Last night at the New Museum on the Bowery, a crowd of left-behind New Yorkers gathered to celebrate the inauguration of Barack Obama. The party, sponsored by The New York Times, attracted not the hoped-for celebrities (it was rumored that Moby, Dave Matthews, and Isaac Mizrahi would be attending), but rather the crowd of young Internet scenesters who seem to show up, like moths to a flame, at every media open bar party in town (who knows how long that gravy train will last?): Sam Lessin of Drop.io, David Karp of Tumblr.com, Charles Foreman of Iminlikewithyou.com, Caroline McCarthy of CNET, Federico Folcia of RoomORama.com, Mike Hudack of Blip.tv, Mary Rambin from Non Society, and Dennis Crowley of the recently departed Dodgeball.com.
Snapshots from a photo booth sponsored by Facebook flashed on two walls above the room's panoramic view. The line to get into the photo booth was 10 deep; this, after all, is a crowd that adores nothing more than photos of themselves. "I got up at 9 am, opened a bag of Cheetos and did nothing else but sit in front of the TV til 4 pm," said Internet lothario Rex Sorgatz.  "Some people would call it patriotism, I would call it public consumption." 
Earlier that day Mr. Crowley had hosted friends for an inauguration work-party while he hammered out plans for "4 Square," a new site that's "kind of the same thing as Dodgeball but works on the iPhone." (Mr. Crowley sold the Twitter-like mobile networking site to Google in 2005, then left in dissatisfaction in 2007; Google announced last week that it is closing down the service.)   Crowley was blithe about whether he – or anyone – could find the funds to keep building Web sites.  "Some of the financing may dry up, but people in this room will keep doing interesting things, just because they want to," he said
Fern Mallis, the woman behind Fashion Week, felt the same way about her industry. "Creative people can design their way out of anything," she said. The Daily Transom asked whether she was concerned about all the Fashion Week cancellations.
"The numbers aren't important, it's the quality," Mallis said.  "There are so many people stepping up to the plate and putting good money down." Ms. Mallis said she loved seeing Michelle Obama in her yellow Isabel Toledo ensemble. "Bravo to her for wearing young American designers and wearing them so beautifully. She wears the clothes," Ms. Mallis said, "the clothes don't wear her."
Ms. Mallis was dressed-down in a t-shirt with the Obama campaign logo, whose designers, Chicagoans Sol Sender and Amanda Gentry, happened to be in attendance. Sender and Gentry both say there were proud to be a part of the campaign, even though neither ever met the hometown Senator-turned-President. Ms. Gentry said she cried during the ceremony. "[The logo] still embodies what inspired us when we were approaching it," she said of the design.  "Except I guess now it's hope, realized."
Did the record-breaking campaign pay well, the Daily Transom wondered?
"We didn't do it pro bono, but we didn't charge what we would for a Fortune 500 company," Mr. Sender said. 
At the party, Ms. Gentry and Mr. Sender's iconic "O" was overshadowed by the Times's own specially designed Obama emblem.  It was already ubiquitous for anyone who logged onto Facebook yesterday, (members could "give" it to each other), and last night, each party-goer received a logo lapel pin on the way in, and a small poster on the way out.
But Times metro reporter/ byline beast Sewell Chan, who as of this afternoon had 2,383 Facebook friends, assured the Daily Transom that, specially-designed logos not withstanding, the paper maintained its objectivity throughout the day, and that nothing journalistically untoward had happened earlier at the informal watching party in the paper's conference room. "It was exciting, but decorous," Mr. Chan said.  "There was no inappropriate whooping or cheering."