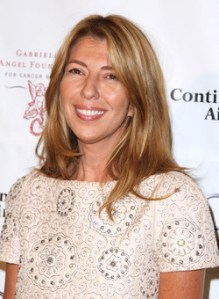 Marie Claire editor, Project Runway judge, and author Nina Garcia is currently at work on her third fashion book for HarperCollins, according to Publishers Marketplace. (The Collins Living imprint also published The Little Black Book of Style in 2007 and The One Hundred: A Guide to the Pieces Every Stylish Woman Must Own in 2008. The designer and illustrator Ruben Toledo, who illustrated Ms. Garcia's first book, will also pen the illustrations for her newest one.)
The book, The Style Strategy: A Less is More Approach to Staying Chic and Shopping Smart, will be guide to dressing expensively on a budget and will come out in August. It seems that Ms. Garcia and her editor, Rene Alegria, sensed an opportunity in the current economy for doling out some handy style tips to all the hedge fund wives who'll have to downsize their shopping budgets in the next year.
"In this third book, Nina takes into account the reality of the times in which we find ourselves, and shows us ways in which to shop smart and save money, while not sacrificing fashionable self expression," Mr. Alegria told Daily Transom in an email. "This will be her most practical book to date, and one which we are confident every woman will come to use as a resource and guide for strategizing the most optimal shopping experience."
Perhaps we'll even see Ms. Garcia tirelessly banging out chapters of the book on Style Network's new reality show Running in Heels, which promises to expose the private and professional lives of Marie Claire's editors. We may even get to see if she too will begin to "shop smart."