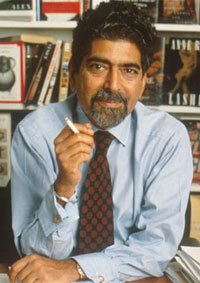 What could have happened is Knopf could have swallowed Doubleday whole.
That was the most extreme scenario floated whenever agents and other publishing people put their heads together over the past month and a half to speculate about the possible outcomes of last month's Random House reorganization. Would Doubleday have to share Knopf's publicity department? Would its marketing team be crowded out by Knopf's? Would Knopf chairman Sonny Mehta, in deciding who stays and who goes, be naturally inclined to keep the people he's used to working with and saddle the Doubleday team with the brunt of the layoffs?
Answers came this morning in the form of staff-wide memos from Mr. Mehta and Knopf president Tony Chirico. Consensus formed quickly, within the building and without: it is so not as bad as it could have been.
Several agents who spoke to the Observer on background said it looked to them like Doubleday was going to remain Doubleday—a major relief, since the last thing agents want is to have one less place to submit their projects to. As one agent put it after reading the memos, "Everyone seems accounted for."
Make no mistake, Doubleday has already suffered two substantial rounds of layoffs in recent months—one back in November that was worth 16 bodies, and the other right before Christmas reportedly worth more than 20—but the fact is, today's announcement does about as little damage as anyone could have hoped to Doubleday's autonomy, and leaves just about intact the imprint's editorial staff, its marketing team, and its publicity department.
Cuts did happen today, certainly, and though Paul Bogaards—promoted in the course of the re-org to E.V.P. and executive director of publicity, promotion, and media relations for the Knopf Doubleday Group—would not say which departments were affected, word is that art and Web marketing were among them.
Which is to say nothing of Janice Goldklang, who worked at the Knopf Group for almost 30 years before being laid off last week and leaving the Pantheon imprint, where she spent the past 12 years, without a publishing director. One wonders if eliminating her position gave Mr. Mehta the flexibility to go easier on Doubleday.
"The takeaway here is there remains a tremendous amount of editorial continuity and in fact overall continuity within our group," Mr. Bogaards said, while conceding that there had been a "minor staff reduction."
Meanwhile, over at Broadway Books, which used to be Doubleday's sister imprint before being plopped into the Crown Group as part of the reorganization, it looks like all the top dogs remain safe and sound, with deputy publisher Michael Palgon, editor-in-chief Stacy Creamer, publicity director David Drake, and executive editor Charlie Conrad all holding onto their jobs counter to expectations that one or more of them would see his/her position eliminated.