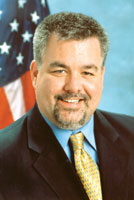 ALBANY—It's not Danny O'Donnell.
"The governor called me today and told me about 5 p.m., and invited me to come tomorrow," O'Donnell just told me, referring to David Paterson's scheduled announcement of who he will designate to be the next U.S. senator. "He told me I was not the designee and thanked me for participating in the process. He didn't say who his designee was, and I resisted the temptation to be a pushy New Yorker and ask."
O'Donnell was interviewed by the governor last month for the position, and estimated he had maybe a ten percent chance at winning the seat. He would have been the first openly gay man to sit in the U.S. Senate.
Other candidates were expecting calls this evening, a source affiliated with one said. Earlier today, Buffalo Mayor Byron Brown said he believed he was still in contention for the appointment.