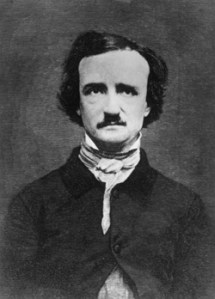 Grim is the only way to begin the story of Edgar Allan Poe, who was born 200 years ago this week; grim is the only way to end it. In between there's poverty, drunken sprees, illness, dashed hopes, more drunkenness and a messy heap of bad behavior (Hemingway, operating on the two-birds-one-stone principle, once remarked that Faulkner was "almost as much of a prick as Poe"). And yet Poe managed to produce a body of work that's frankly amazing and heroically perverse (the painter Robert Motherwell once called him "a one-man modernist"). The gothic tales and the poems (especially "The Raven") made him briefly semi-famous, but never eased his financial misery. Born poor and swiftly orphaned, Poe died at the age of 40, crazed and broke and very much alone.
Right on time for his bicentennial comes Peter Ackroyd's biography, Poe: A Life Cut Short (Nan A. Talese/Doubleday, $21.95). I wish I could recommend it—Poe's bitter, truncated life cries out for a quick, sharp analysis—but Mr. Ackroyd's slim volume is also shallow and lackluster, alternately timid and pompous, with none of the kinetic energy that drove Poe's mad, morbid imagination and his terrifyingly lucid ratiocinations.
Part of the problem is that Mr. Ackroyd doesn't seem to like Poe very much; nor does he seem passionate about the work. He calls him the greatest American prose writer of his time, he admires the technical ability of an author who claimed to calculate his effects to within a millimeter ("consummate control of cadence and of open vowel sounds"), and he notes with respect the pioneering forays into undiscovered genres (detective stories, science fiction), but there's never a sense that Poe is important to Mr. Ackroyd, a vital influence or a personal favorite.
I can't say I blame him. Confronted with the bare facts of Poe's life, you're bound to feel a strong urge to look the other way. It's a kind of slow-motion suicide: the train-wreck alcoholism; the marriage to his 13-year-old cousin; the lofty ambitions repeatedly stifled; the ugly literary vendettas; the bizarre romantic betrayals; and always—as a kind of wailing, groaning, haunted-house soundtrack—the relentless, dire poverty.
As for the writing, it's fascinating, exhilarating but not wholly transfixing. It'll make your hair stand on end but it won't stop your heart—unless you happen to be another death-haunted dipsomaniac, at once gloriously romantic and chillingly cynical. Though sometimes lovely, the poetry is slight (Emerson, surely with "The Bells" in mind, dismissed Poe as "the jingle man"); the tales are spellbinding but always somehow flawed, tripped up by tangles of irony; and the criticism is brilliant, bracingly vicious but batty.
The closest I've come to identifying the root cause of my dissatisfaction with his tales is a remark by R. P. Blackmur, who observed that Poe has "no grasp of the particular." It's true: When he declares that "the death … of a beautiful woman is, unquestionably, the most poetical topic in the world," he has no specific woman in mind—any comely corpse will do.
V. S. Pritchett may be saying something similar when he points to Poe's redeeming gift for "generalizing morbid experience." He's always straining after the universal, taking his own fear, his own longing, his own pain and making it yours and mine and inescapable. "Suffering and guilt are his subjects," says Pritchett, "to magnify his method."
That magnification produces powerful effects—witness the enduring worldwide popularity of "The Tell-Tale Heart," "The Fall of the House of Usher," "The Cask of Amontillado" and a half-dozen others. And yet I wonder whether in this sense, too, Poe has no grasp of the particular. Whole nations revere him, the French first and foremost, but how many individual Frenchmen keep Poe by their bedside?
Perhaps concerned that he hasn't exactly boosted Poe's reputation, Peter Ackroyd concludes his biography with a list of writers who honored him. Who wants to argue with Hardy, Kafka, Conrad and Joyce? Poe will be with us, safe to say, for another 200 years.