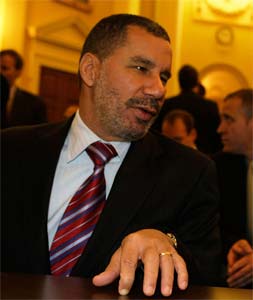 ALBANY—David Paterson said he hasn't spoken to Attorney General Andrew Cuomo about an appointment to the U.S. Senate.
"I have not talked to him necessarily about the Senate," Paterson said on Good Day New York. He said there are a number of interviews outstanding, including Caroline Kennedy.
(Of Kennedy, this morning Paterson said he could "see that a person who wasn't in public service would have a little stage fright.")
Cuomo's lobbying for the seat has been decidedly low-key, prompting speculation as to whether he actually wants it. Cuomo aides declined to tell The Times whether or not he has submitted a 28-page questionnaire Paterson is requiring of candidates. Kennedy has submitted the questionnaire, The Times reported.
Publicly, Cuomo has not expressed interest, saying he is happy as attorney general. He has not commented on his discussions with the governor, citing them as "private."