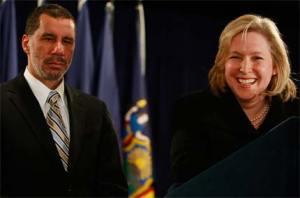 David Paterson said in a press conference just now that he regretted the way in which he went about selecting Hillary Clinton's replacement in the Senate.
Saying that public officials often wrestle in private over whom to appoint to high-profile jobs, he added, "In retrospect I wish I had not shown all you the wrestling match."
Then he showed a little more.
The governor offered a little post-match commentary. He said that he had told Attorney General Andrew Cuomo early on that he had reservations about picking him because it would have created another open seat in a statewide office.
"I didn't want to have another issue of trying to fill a vacancy," Paterson said.
The governor the said that he "asked him to please remain available" in case he couldn't find a suitable replacement. (Which may have been enough motivation for some Cuomo supporters to act behind the scenes to question the suitability of his chief rival.)
Paterson said that Cuomo was delighted about the Gillibrand pick–Cuomo also released a statement to that effect–and said he hoped that Cuomo would eventually serve "this state as senator and governor. I think he is that great an elected official."
Paterson also said that he had settled on Gillibrand as of Tuesday, the day Barack Obama was inaugurated.
"I was completely sure by the time of inauguration," he said, adding that he just had to complete the vetting processes of people who he apparently had no intention of picking.