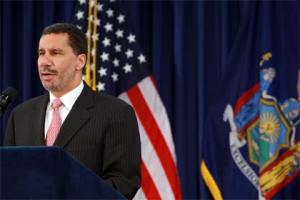 ALBANY—As the U.S. Senate appointment he'll have to make draws nearer, David Paterson indicated today he's doing second-round interviews.
"I'm having new thinking about who I might appoint and a few follow-up conversations with some of the people who have put themselves forward as potential candidates," Paterson said, after making an announcement with Manhattan District Attorney Bob Morgenthau.
He said earlier today he expects to make the appointment after Barack Obama is inaugurated.