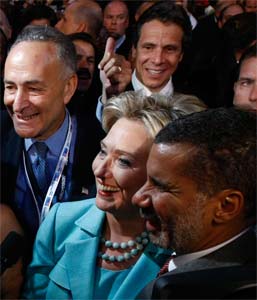 WASHINGTON–Even at a black tie ball where President Barack Obama and his wife danced to celebrate his historic inauguration, New York's most frustrating political parlor game continued to take center stage.
"I think I've got an idea," said Governor David Paterson.
He was responding to questions from reporters about whether he had decided on a replacement for Hillary Clinton in the Senate as he swept through the Mid-Atlantic Ball on Tuesday night.
"I think we'll probably make it in about three days," he said of his announcement, adding that the person was someone who "enjoyed the inauguration today immensely." Paterson also confirmed reports that he had interviewed Byron Brown, the mayor of Buffalo and a candidate for the job, earlier that day. 
Dressed in a tuxedo with his wife, Michelle, clad in a gold dress, on his arm, the governor attempted to answer questions over the remaining members of the Grateful Dead, who played on stage. When asked about whether Senator Ted Kennedy taking ill during a reception with President Obama that afternoon would influence his decision making process. He said that there was absolutely no connection between "the prognosis of a human life and a political decision."
Asked why he said none of the candidates made an "apt" choice to replace Clinton the prior night at an event for New York Democrats at the Smithsonian, Paterson said, "Starting on their first day they are not. Starting on Senator Clinton's first day, people thought that she wasn't from New York, didn't have any previous political experience, had one policy endeavor, healthcare, a policy initiative that flopped. They were real down on her and now she seems as if no one can replace her."
Senator Chuck Schumer, who entered the ballroom at roughly the same time as the governor, also said that the decision would come on either Friday or Saturday.
"We're getting close to decision time. I think the Governor will make his decision Friday, Saturday night. Friday, Saturday, at night time," he said.
Asked why the schedule seemed to have been pushed back, Schumer said it hadn't.
"Hillary is not even going to be approved till Wednesday," he said. "And then a couple of days, that was always, as I understand it, when we found out the schedule, I called him and said Hillary is likely to be confirmed Tuesday or Wednesday and he said, well we'll probably do it Friday or Saturday, that's always been the plan."
Schumer also said that the governor's "apt" remarks the prior evening were harmless.
"A little hyperbole is appropriate," he said.
After spending a few minutes with the press, Paterson and his wife and coterie proceeded to a VIP section that overlooked the floor of the convention center where the ball took place. He stopped to chat with some bundlers dressed in tuxedos and yellow scarves. His wife sipped a drink from a lipstick-smudged straw. The couple and family made their way back through the floor, slicing through long lines for the bar. On the escalator up to the lobby, Paterson tickled his son's ribs in front of him and laughed. He appeared to be having a good time.