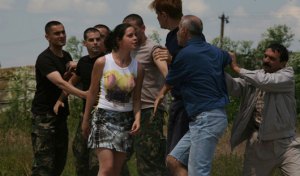 California Dreamin'
Running time 155 minutes
Written by Cristian Nemescu, Catherin Linstrum and Tudor Voican
Directed by Cristian Nemescu
Starring Armand Assante, Razvan Vasilescu, Jamie Elman, Maria Dinulescu
Cristian Nemescu's California Dreamin', from a screenplay by Tudor Voican and Cristian Nemescu, and additional dialogue by Catherine Linstrum (in Romanian, English, Spanish and Italian with English subtitles), sadly happens to be the first and last feature film of its writer-director. Nemescu was born on March 31, 1979, and killed in a car accident on Aug. 24, 2006, along with his friend and sound editor, as they were returning from the editing lab. The film had ended shooting on July 8, 2006, and it was finished on the cut he left behind. He was 27 when he died.
Still, it is an open question whether California Dreamin' will long linger as a cultish harbinger of what might have been. For one thing, the film seems overlong at a little over two and a half hours, and it is not certain that Nemescu had finished editing it. At its present length it sprawls shamelessly in terms of the ultimate futility of its narrative. What makes it interesting at all is the sheer exoticism of its international concerns, as well as its comparatively benign treatment of Americans in the political arena. But California Dreamin' is no 4 Months, 3 Weeks and 2 Days or The Death of Mr. Lazarescu. Perhaps it suffers from being too ambitious, with a story that over a short span of narrative time introduces us to more than two dozen characters, and then crowds them into a village for several nights of carousing, ending in a riot pitting angry villagers against a corrupt merchant/stationmaster and his band of thugs.
The main story begins with a very resistible group of Marines led by an American NATO commander, Captain Doug Jones (Armand Assante), encountering the very immovable Doiaru (Razvan Vasilescu), the aforementioned stationmaster, who will not let the NATO train pass with its radar equipment for use on the border with Serbia during the war in Kosovo in 1999. Despite his having received permission to deliver the radar shipment from the Romanian government in Bucharest, Captain Jones is unable to persuade the obdurate Doiaru, who insists on following protocol. Even the captain's offer of a bribe to the stationmaster is met with scorn.
Meanwhile, the mayor of the village (Ion Sapdaru) has seized the opportunity to enlist the Americans in the celebration of the village's alleged 100th anniversary of its founding. The Marines are invited to the festivities, which include a local Elvis impersonator to make the Marines feel right at home. The unmarried local girls are visibly and audibly excited at the prospect of flirting with the presumably wealthy Marines, much to the annoyance of their village boyfriends. This frenzy extends to Monica (Maria Dinulescu), the stationmaster's very pretty daughter, who catches the eye of David McLaren (Jamie Elman), the NATO unit's second in command. Without either Monica or David able to speak a word of the other's language, they manage to communicate their feelings. On a date in Bucharest, Andrei (Alex Margineanu), Monica's local admirer, reluctantly acts as an interpreter for Monica and David, at Monica's request. A passionate sex scene between Monica and David takes place shortly thereafter, despite the violent disapproval of Monica's father.
Meanwhile, a revolt takes place against Doiaru's de facto rule of the village. A black-and-white recurring flashback reveals that in World War II, during Doiraru's childhood, an American bombing of the village took place, and it has shaped his character ever since. The bittersweet ending shows Monica and Andrei meeting briefly at college in Bucharest, with each of them going their own separate way.
The other girls in the village bewail their betrayal by their Marine lovers, who casually abandon them when the train is finally allowed to move again, its mission made superfluous a few days later with the cessation of hostilities in Kosovo. The village itself is shattered by the violence between rival factions. I suppose that the downbeat ending makes the film more credible as an art film. Certainly, there are no heroes and villains in the conventional sense, and I am not sure of any political moral to be drawn from this frequently aimless spectacle. Yet one lingers over the intelligently sensual beauty of Ms. Dinulescu's Monica. Indeed, there is a playful mischievousness in Monica's eyes that is really what movies are all about.
asarris@observer.com