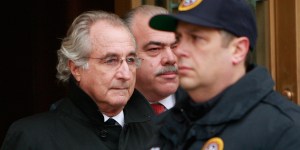 Remember when Lehman Brothers collapsed and every financial journalist in the world had a book deal about the economic crisis like five minutes later? Well, apparently a few of them were outside smoking or something while that was going on, because there are at least eight people out there right now working on books about Bernie Madoff. Nine, if you count both of the authors of Catastrophe, the quickie biography that Beverly Hills-based press Phoenix Books is publishing in March.
The latest comes from business reporter Erin Arvedlund, whom Adrian Zackheim from Penguin's Portfolio imprint signed up earlier this week for a book called Don't Ask, Don't Tell. The special thing about Ms. Arvedlund– the thing that compelled Portfolio assistant editor Brooke Carey to seek her out when she heard her being interviewed on NPR recently– is that she was investigating and publicly questioning Madoff's investment methods as far back as May 2001. This is a fact Portfolio's publicity team will surely remind readers of many times when the book is published during the spring of 2010.
Will Weisser, the associate publisher of Portfolio, conceded in an interview yesterday that Ms. Arvedlund has quite a bit of competition on the Madoff book beat, but that he is confident she will write the definitive account.
"There's a pack," Mr. Weisser said. "It's definitely going to be competitive. The question ultimately is going to be who writes the best book."
Two authors who will definitely be gunning against Ms. Arvedlund are former NY1 reporter Andrew Kirtzman, who is writing a Madoff book for Claire Wachtel at HarperCollins, and magazine journalist Richard Behar, who is writing one for Random House.
 
Literary agent Richard Abate, who represented Mr. Behar, predicted back in December that by the time everyone in publishing returned to their desks after the holidays, there would be "three or four" other Madoff proposals floating around. "I think publishers will think long and hard before signing up a third book," Mr. Abate said then, very clearly pleased with the fact that he and his client had come rushing through the gate as early as he did.
Some of Mr. Abate's rival agents are hoping he is wrong.
As of late last week, there were fully four Madoff-related books on the market that had not yet found homes. One of them we know absolutely nothing about (the editors who received the submission were asked to sign a non-disclosure agreement) but one is being written by the Financial Times columnist John Gapper and repped by agent David Kuhn, and a third comes from Richistan-author Robert Frank and is being handled by Inkwell Management's Richard Pine. A fourth is out from former Little, Browner Fredi Friedman, who would not discuss the book or confirm its existence last week, but indicated that she would call Pub Crawl when someone bought it.
So, look forward to that.