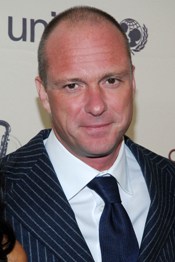 In December, The Observer's Eliot Brown wrote about Cipriani's push to have the Rainbow Room in 30 Rock landmarked. The logic was that a landmark designation would strengthen Cipriani's negotiating position when it came to renewing its lease in 2013 with landlord Tishman Speyer. A landmark designation would limit Tishman's options for possible new tenants, thereby possibly throwing the landlord back into the arms of its existing tenant.
At the time, Cipriani denied such logic, its representatives saying that it merely wanted to protect a famous city spot. And Tishman Speyer denied it had any other immediate plans for the Rainbow Room's 56,000 square feet.
All seemed fine, if a bit tense.
The Times' Charles Bagli reported over the weekend that Tishman has moved to evict Cipriani. And that Cipriani has vowed to fight.
Under the lease, the Ciprianis have three days to get out. But as with all things Cipriani, they have their own version of events. The family — led by Giuseppe Cipriani, 43, whose grandfather founded Harry's Bar in Venice — says that the termination notice is part of a continuing effort by Tishman Speyer "to drive them out of business" at the Rainbow Room, according to their lawyer, David Rozenholc.
Like many things in New York, it comes down to rent.
Mr. Rozenholc said Tishman Speyer had imposed an "insanely high" rent when the Ciprianis renewed their lease for the 64th and 65th floors at 30 Rockefeller Plaza a year ago. The Ciprianis challenged the rent increase and the matter went into arbitration. After Christmas, the arbitrator came down on the Ciprianis' side, and cut the rent to $6 million a year, from $8.7 million, according to two executives who asked not to be identified because arbitrations are supposed to be private.
Still, there's the matter of the back rent. And Tishman Speyer wants them out for failure to pay.
Bloomberg reported on Sunday that Cipriani plans to keep operating the Rainbow Room despite the eviction.