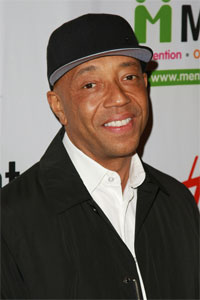 A week after he toasted the inauguration of President Barack Obama at the Heineken- and Hennessey-sponsored Hip Hop Inaugural Ball (see Ta-Nehisi Coates' Green Carpet in this week's New Yorker), hip-hop oligarch Russell Simmons has a new gig: Editor-in-chief of Global Grind, a Web site that touts itself as presenting, "The World According to Hip-Hop."
According to press release sent out by the site's PR people, Global Grind will feature blogs written by a veritable who's who of rap including Akon, Bow Wow, Jim Jones, LL Cool J, Nas, T-Pain, and others. To hear them tell it, the site's like The Huffington Post of hip-hop.
The release includes the following bit of information:
The celebrity Global Coverage pages include icons and opinion leaders ranging from President Obama to Jay-Z, Paris Hilton, Steve Harvey, Kim Kardashian, Michael Moore and many others.
Mr. Simmons is quoted as saying, "Whether you're a celebrity, a politician, an artist, a politician, a comedian or an emerging blogger, Global Grind gives the community a powerful platform to speak to each other, the media and the world." (What a relief for Ms. Hilton and Ms. Kardashian.)
In 2000, an earlier Web venture from Mr. Simmons called 360HipHop.com was sold to BET according to The Washington Post.