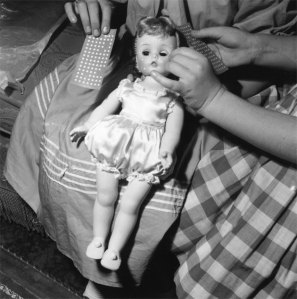 Move over Rainbow Parties! According to this week's Page Six Magazine, there's a "new" moral panic for parents to worry about: Chicken Pox Parties!
In a feature by Kate Torgovnick headlined "Inside New York Chicken Pox Parties," we learn that, according to the article's subhead, "A growing number of New York parents are scheduling chicken pox playdates where kids share lollipops and trade germy pajamas to spread the disease and avoid vaccinations. But is it an ill-advised idea?"
Good question. Also, is it really growing?
You're Invited To Get Chicken Pox, The Today Show, March 21, 2007.
CHICKEN POX PARTIES. Kids spread the illness to avoid vaccine, by Tracy Conner, The New York Daily News, August 20, 2006.
Docs Pan 'Pox Parties', John Easterbrook, CBS News, September 30, 2005.
A Pox On Your House? Please Call! Chicken pox parties may be back in vogue, by Valerie Soe, The SF Gate, January 29, 2004.
The return of 'pox parties', by Hilary Shenfeld, The Daily Herald, January 14, 2002.
You're invited to: chickenpox party! (no gifts, please), by Dan Nephin, Associated Press, October 19, 2001.
The Chicken Pox Party (book), by Sharon Dennis Wyeth and Heidi Petach, Bantam Books, 1990.
The Chicken-pox Party (book), by Delia Huddy, Nicole Goodwin, Hamilton, 1973.
Boy with Chicken Pox Still Has Birthday Party, The Hartford Courant, June 1, 1964.
(Full disclosure: This reporter has had chicken pox.)