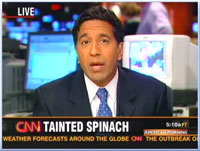 Howard Kurtz is reporting in The Washington Post today that CNN's Dr. Sanjay Gupta has been offered the job of Surgeon General of the United States.
From the article:
Gupta has told administration officials that he wants the job, and the final vetting process is under way. He has asked for a few days to figure out the financial and logistical details of moving his family from Atlanta to Washington but is expected to accept the offer.
When reached for comment today, Gupta did not deny the account but declined to comment.