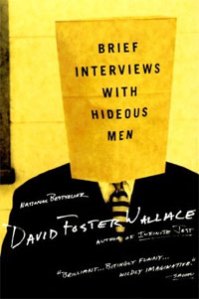 Today in The Los Angeles Times, Chris Lee interviews John Krasinski—Jim on NBC's The Office—about his feature film directorial debut, an adaptation of David Foster Wallace's Brief Interviews with Hideous Men which is screening at this week's Sundance Film Festival.
Here's how Mr. Krasinski managed to get the rights to Mr. Wallace's book:
After graduating from Brown, he moved to New York to attend theater school in 2001, making ends meet by waiting tables. Krasinski began lobbying Wallace's longtime literary agent Bonnie Nadell for the right to option "Brief Interviews" but was rebuffed several times. In 2002, he landed the pilot for the American adaptation of a beloved British sitcom.
'When he first called, here's this actor I had never heard of. He's going to do an American version of "The Office"? I'd never seen the British version,' recalls Nadell. 'He asked to come out to L.A. and meet me. He explained how much the book meant to him and was really heartfelt and sweet. I just decided it was going to be OK. I went purely on intuition that he was going to do a good job.'
Mr. Krasinski also managed to secure the blessing of the author (who committed suicide on September 12, 2008), whom Mr. Krasinksi says listened to his plan to link his short stories and said, "That sounds awesome."
The Los Angeles Times Web site also features a teaser clip for the film featuring Sports Night's Josh Charles and some Pet Sounds-era Beach Boys.