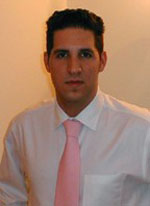 Note to aspiring young writers in college: Make friends with people you think might become literary agents! That's what 26-year-old Sam Munson did, and now the manuscript for his debut novel, November Criminals, has attracted so much interest from publishers that it's about to be put up for auction.
Mr. Munson, the online editor of neoconservative journal Commentary (and a onetime contributor to The Observer), and his agent, Stephen Barbara, graduated a year apart from the University of Chicago. During his junior year, Mr. Munson—who is, incidentally, the grandson of former Commentary editor Norman Podhoretz—was the editor-in-chief of a literary magazine called Euphony that Mr. Barbara had founded as a sophomore.
Mr. Munson's is the second book by a U. of C. classmate that Mr. Barbara has taken to market.
"I'm working that little niche," the young agent said, pointing to a children's book by fellow U. of C. grad Lauren Oliver that he says he sold last May to HarperCollins for a quarter of a million dollars.
Mr. Barbara, who recently left his job as contracts manager at the Donald Maas Agency to join the growing team of 20-somethings at Foundry Literary + Media, said Mr. Munson's novel is told from the perspective of a high school senior applying to the University of Chicago.
"The essay question he's given is, 'What are your best and worst qualities?'" Mr. Barbara said. "The novel is addressed to the admission office."
Of the narrator, Mr. Barbara said, "He's like a Chuck Palahniuk character. He's very in your face and abrasive. He claims to have no good qualities, though the novel tells you otherwise."
Mr. Barbara said the book's conceit had drawn comparisons to Sam Lipsyte's stunning novel 2005 Home Land, which takes the form of a charming misanthrope's letters to the alumni newsletter of his old high school.
According to Mr. Barbara, the book will go to auction next week.