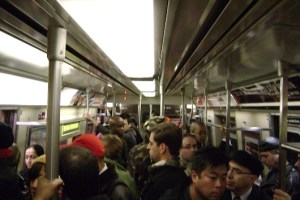 Lee Sander, the M.T.A.'s ever-serious and stoic executive director, sounded an unusually optimistic note this afternoon about the effort to secure new state money and thereby save the agency from severe service cuts and a major fare hike.
Speaking before a New York Building Congress luncheon at the Mandarin Oriental in the Time Warner Center, Mr. Sander implored the construction executive-filled ballroom to keep pushing the state Legislature for action on the M.T.A.
"Bottom line is, I think you should be really nice to Dick Anderson and tell him you'll see him in eight weeks after he is done schlepping around Albany and down here, working the Senate and the Assembly," he said, referring to the Building Congress' president. "It is very close. I think we have a terrific shot.
"That's a result of the work in general that you have done, that we have done," he continued. "It is ours to lose, I would say."
Mr. Sander and the industry are pushing the Legislature to adopt a new regional payroll tax and put tolls on the East River bridges, the latter being a highly controversial measure that has failed many times before. Mr. Sander was not specific about what portion or portions of the plan were getting a good reception in Albany, though the rhetoric from key lawmakers suggests that the payroll tax is being better received than the bridge tolls.
With that said, Mr. Sander emphasized that the fight was not over, asking for more support still as he closed his speech.
"We cannot lose," he said. "The future is at risk, so off we go."