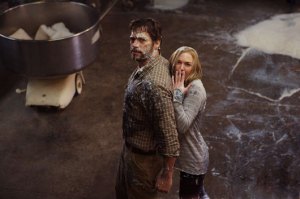 Sometimes we dump all over Renée Zellweger, and honestly, we're not really sure why. We loved her in Jerry Maguire and Bridget Jones' Diary—even her small role in White Oleander. But our feelings for her turned—perhaps it was more all that red carpet mincing in Carolina Herrera gowns than any particular role … though Cold Mountain and Leatherheads certainly didn't help. Anyway, we'd forgotten that the woman can do certain things really well, like convey an easy charm—even in hard-to-digest romantic comedies like New in Town.
Ms. Zellweger plays Lucy Hill—a super-ambitious executive living in sunny Miami where she runs on the beach, drives a fast car and seems to have all of Ally McBeal's hand-me-down short and shiny suits. So, of course, you can only imagine the hijinks that ensue when she takes a "promotion" that entails her moving out to the tiny town of New Ulm, Minn., to oversee the downsizing of a manufacturing plant. There are obligatory scenes of her not dressed for subzero temperatures (including a rather uncomfortable scene where her nipples are showing through her tight short-sleeve sweater during a Christian family dinner), cows in the middle of the road, ice fishing and general big city culture clash with small towners. It all drove us to wonder how people who live in these more rural environs feel about Hollywood's depiction of them as funny-talking rubes. Surely, not all of them "scrapbook" and chatter about Jesus incessantly, right?
So when Lucy meets the scruffily handsome Ted (Harry Connick Jr.), to whom she takes an instant dislike (in that ho-hum romantic comedy rule that the couple who will fall in love must take the first 45 minutes sniping at each other—wouldn't it be nice if we could take a break from that for a while?), you think you know exactly where this movie is heading. However, New in Town does take a few surprise detours along the way. Lucy finds out that the country bumpkins are actually really quite nice (shocking!), and that she feels attached to the workers at the plant whom she might be packing off into unemployment. The film throws in a couple of hasty backstories—about Lucy's father's employment and Ted's dead wife and etc.—and there's the inevitable third act misdirection and conclusion, but really, there are no serious bumps … just a couple of easy curves before cruising to the finish line. Ms. Zellweger and Mr. Connick share a nice and believable chemistry—it's what she manages to do best (besides squint), and in spite of ourselves, we enjoyed the two of them together. Not for nothing, Mr. Connick has carved out a nice little niche for himself in these kinds of movies over the last few years (see Stringer-favorite P.S. I Love You and Hope Floats)—but does anyone else remember how scary he was in Copycat? More serial killers, please! The supporting roles are teeming with talent, too, including the always-wonderful J. K. Simmons sporting a huge gut and indecipherable accent; an underutilized Frances Conroy (Six Feet Under); and a game Siobhan Fallon Hogan, who may or may not be able to save the day through tapioca pudding. And yes, you did read that last sentence correctly!
New In Town opens Friday at AMC Kips Bay and Empire 25, Lincoln Square Theater and Regal Union Square.