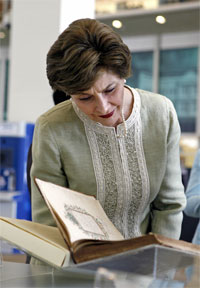 Laura Bush will write a memoir for the Scribner imprint of Simon & Schuster, it was announced this morning. The book, which will include details of Mrs. Bush's eight years in the White House, will be edited by Scribner's editor-in-chief, Nan Graham, and is scheduled for publication in 2010.
No word just yet on how much they paid, but the two-day auction took place during late December. The soon-to-be-former first lady is quoted in the release as saying she is "very pleased to be associated with Scribner, the distinguished publishing house of many of [her] favorite books."
Mrs. Bush's memoir was the subject of a recent Talk of the Town piece by Observer alum Sheelah Kolhatkar, in which several editors and publishers were quoted on their expectations for the book and its prospects in the market.
"She was not forthcoming about anything that I would consider controversial," one publisher who met with Mrs. Bush before the auction was quoted as saying. "We questioned her rigorously, but it was one-word answers. I considered it the worst, or the most frustrating, meeting of its sort that I've ever had."
A publisher at a different company told The New Yorker that he/she had chosen not to meet with Mrs. Bush, and had heard from those who had that they were "totally underwhelmed."
Industry reporter Michael Cader, who runs the news hub PublishersMarketplace.com, wrote in a posting at the end of the month that those quoted in the New Yorker piece were just "trying to manipulate down the selling price."
Citing Robert Barnett, the DC lawyer who represented Mrs. Bush on her memoir, Mr. Cader reported that eight publishers were interested in pursuing the book.
"Far from declining to meet, there were several more who asked for a meeting who we were not able to accommodate because of scheduling," Mr. Barnett was quoted as saying. "The meetings were lively, insightful, and revealing. I have been at this long enough to know that, because certain publishers are well-known for being pathologically unable to maintain confidentiality, you don't reveal your best material in multi-publisher meetings. We will resolve it right after the first of the year."