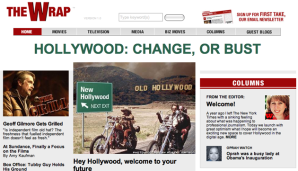 Former New York Times reporter Sharon Waxman's Hollywood news site The Wrap has launched a "Version 1.0."
In a welcome message to readers, Ms. Waxman writes:
Today we launch with great optimism what I hope will become an exciting new space to cover Hollywood in the digital age. TheWrap seeks to use the myriad tools of the web to marry top quality journalism – breaking news, trends, features, interviews – with the input of the talented and sophisticated community that creates the world's popular culture.
Ms. Waxman calls her site "a conversation. A dialogue." She also predicts, "We will make mistakes, and you will point them out."
In October, Ms. Waxman wrote on her personal blog, Wax Word:
The online world is changing and evolving, and quality is the next big thing. When the internet superhighway first debuted, it was pornography that drew all the eyeballs and clicks. The next wave was the independent bloggers—the likes of Wonkette, and Gawker and Defamer. As those got bought up by bigger companies, or grew into bigger companies, we've been flooded with attitude. Aggregation, and attitude. What about some well-reported facts, surrounded by intelligent analysis, in a timely manner? That's what we're hungry for.
In addition to Ms. Waxman, the site's Masthead includes Timothy Doyle, formerly of Variety, Maria Russo, who used to work at The Los Angeles Times (and before that The Observer), sometime Observer writer Nicole LaPorte, former Defamer editor Mark Lisanti, and NPR's Kim Masters.