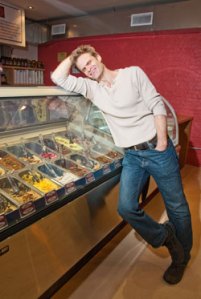 The scene is a prewar apartment building on West 84th Street in Manhattan, around sunset. Two white dudes—rich kids, if you had to guess from their demeanor and slang—are carrying heavy parcels through the lobby, up the elevator and into a sprawling, mostly empty apartment. They're taking the parcels from the back of a station wagon.
"My dog Tybalt, he's getting all jumping and excited," said Rob Sedgwick. "He was usually jumping and excited when we would bring in the first load, but in a fun way. This time, I was yelling and screaming at him, and I never do that. I went downstairs to get the second load. And Jordan is carrying the back of the load and I had the front. I look up and see these D.E.A. officers streaming in. More artillery than you've ever seen in your life. And it just looked too real and everything slowed down. And then we got busted."
The parcels contained Mexican brick weed. The apartment belonged to Rob Sedgwick's grandfather, who had lent it to him. Rob and Jordan had been using the apartment to break down the bricks of marijuana into smaller portions to sell. They were moving about 1,000 pounds a month through the place. A few hours after the raid, Rob and Jordan were in a holding cell downtown. Let Jordan tell it:
"So I asked him, 'So, Rob, what happened when they took you upstairs?' And he says, 'Nothing. I just told them, you know, we'd done this a few times, and that I was helping you. And that business was good.' And I said, 'Wait a minute. What do you mean you just told them that?' And Rob said, 'Well, they asked me, and they said they were going to shoot my dog if I didn't tell them.' I said, 'Rob, haven't you ever watched Dragnet? Didn't you realize you could have just said nothing and asked for a lawyer?' He said, 'Well, they said they'd shoot Tybalt if I said nothing.'"
That wasn't the end of Jordan's troubles. Rob did get a lawyer, who then contacted Rob's brother, Nikko, who had a peripheral role in the drug ring and also happened to be Jordan's best friend.
"I got a call from Robbie's lawyers," said Nikko Sedgwick, who is now a painter, "and they said, 'Listen, Rob knows stuff, but he doesn't really know the stuff, and he's between a rock and a hard place and he needs some help.' So I came forward, and in doing that, I fucked myself over, but it's O.K. It was the privileged white boy situation. It was beautiful."
Between the two of them, the Sedgwick brothers brought down five of their buddies, including Jordan, who did a year in the big house and six months in a halfway house. Jordan (not his real name) is now a venture capitalist out West.
But back to that other name: Sedgwick, imbued as it is with 1960s Warhol mystique—the tragic WASP pixie heiress in black leotards, Edie Sedgwick, who was Rob's cousin—and contemporary glamour—actress Kyra Sedgwick, who is Rob's sister. "It was a hard couple of years, definitely," said Ms. Sedgwick, "but he's grown up beautifully, my older brother."
Rob Sedgwick got four years' probation. Last week he was pushing something else when I sat down with him.
"It's a great product. There's nothing out there like it and we're already doing really well," said Mr. Sedgwick, now 47 and 6-foot-3 and lean as a boxer, with piercing blue eyes. Though he's a steak 'n' eggs, cholesterol-till-you-die man himself, two months ago, he and a partner, Steve Horn, opened Stogo (www.stogonyc.com), an organic, dairy-free vegan "ice cream parlor" on East 10th Street.
 We were sitting in the one-bedroom apartment he's lived in for 16 years. His prize possession is a poster from the "Thrilla in Manila" fight, signed by Muhammad Ali and Joe Frazier; Kyra bought it for him. Like his sister, he's an actor by passion and trade. He's done dozens of plays, Law & Order four times; he grunted and flared his nostrils as a German terrorist named "Rolf" in Die Hard 3; he had a speaking part on 30 Rock last year. But unlike Kyra, who earns a reported $250,000 to $300,000 per episode of The Closer, and whose husband, Kevin Bacon, cashes a tidy Hollywood paycheck himself, Rob's acting gigs haven't given him a cushion.
"After a while you want stuff, you want security," he told me, leaning back in a wooden chair. "The only thing I own in this world is this chair and those CDs and that TV and my dogs. I promised myself I was not going to be 50 years old doing an audition for Law & Order going, 'Oh, my God, I've got to get this part for my insurance.' It's just too pathetic. I shouldn't say pathetic. It just wasn't the sort of career I wanted."
"Am I surprised that Rob has become a vegan mogul?" Kyra said with a laugh when I called her. "Yeah, totally. When Rob first told me about it, I thought it was a fantastic idea. My friend is vegan, and I know that vegan is quite the thing these days. But five years ago if someone told me my brother Rob would be opening an ice cream store, I would have told them they were totally insane."
The Sedgwicks began in Croton-on-Hudson, a village nestled between the two rivers, known for its gurgling creeks and whispering pines. They lived in an old house with a sign out front that read "The Gingerbread House." Henry Dwight Sedgwick V came from New England aristocracy (with a signer of the Declaration of Independence tucked in there) and was in finance; his wife, Patricia, was a teacher and speech therapist. The family dog was named Golden Boy. Rob's parents separated when he was 8, and the kids went to live on Central Park West with Mom. Soon she married Ben Heller, a wealthy art collector, and the brood moved into the Kenilworth Building at 151 Central Park West. Said Rob: "We went from middle-middle normal people to, like, butlers and maid and a giant apartment." The living room was the size of a basketball court. Then they upgraded again.