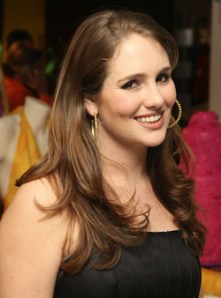 Last night at the Elie Tahari store in Soho, Mr. Tahari and his wife Rory kicked off the Annual Winter Antiques Show, which opens on Jan. 22 at the Armory, with a party for the Antiques Show Young Collectors.Among the committee members making an appearance were young socials Tatiana Boncompagni, Gillian Hearst Simonds and Kipton Cronkite, founder of the KiptonART organization dedicated to launching emerging artists. 
"I'm the new kid on the block," said Ms. Simonds, who is a first-time co-chair for the Young Collectors gala on Jan. 29. "Kipton and Tatiana, who have been involved with the show longer, got me involved."
Naturally, the Daily Transom inquired whether Ms. Simonds, daughter of Patty Hearst older sister to Lydia, enjoys going antiquing.
"I actually moved recently and was looking for antique lighting fixtures–I like the random pieces that kind of add to the ambiance of the house–and I found some beautiful antique sconces," she replied. But Ms. Simonds' favorite is a bed that was passed down from her great-grandfather, the press tycoon William Randolph Hearst.   
"It's a really heavy dark wood, really ornately decorated and carved and it has this very high headboard and foot board made of solid wood," said Ms. Simonds. "He was the real antiquer. He collected everything from lamps to buildings, so…he did it better than anybody."
The Taharis, who said they enjoy going antiquing practically every weekend, are hosting the show for the first time this year. 
"We collect a lot of mid-century furniture so that's really our passion. And art of course," said Ms. Tahari. "I think right now my favorite piece in our home is a picture by Robert Polidori. It's of Marie Antoinette's dressing room from Versailles. It's really amazing because there is this black and white tile flooring and the perspective of it makes the room seem much bigger. It's a very simple room with one bed in it, but the colors are so vivid and so beautiful."
Meanwhile, Mr. Tahari declared that his favorite piece in their spacious Soho apartment is a Chinese stool he acquired from a gallery in Paris. 
"Mine is probably the empire armoire in my bedroom," said Mr. Cronkite, when we asked him the same question. "It's from 1820. It's very large, made of dark wood and has those large claw feet. I love antiquing. It's something I don't have a lot of time to do, but I love to go a little outside New York to do it. I got the armoire from a dealer in Connecticut. There are some amazing little towns in Connecticut and upstate New York where you can find some amazing pieces. And it's also fun because it's sort of like a treasure hunt."