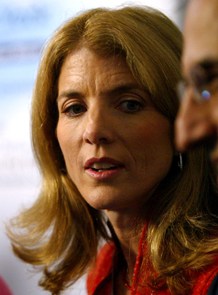 Caroline Kennedy's decision to call Governor David Paterson and withdraw her name from consideration for Hillary Clinton's Senate seat took her closest confidants and advisers completely by surprise, according to two sources with knowledge of last night's events leading up to and following Kennedy's withdrawal.
Until as late as yesterday afternoon, the sources said, they felt confident that all was well and that she was going to be picked.
"All the indications were very positive," said one source.
According to the source, Kennedy called the governor between 2 and 3 p.m. — without telling her advisers.
"He was very understanding about it," said the source. "He said, 'Take 24 hours and think about it,' and then by the end of the day, in the night, it became clear that she did not need 24 hours to think about it."
Within hours, news of the phone call had leaked and advisers and people close to Kennedy began getting calls from reporters looking for comment. Almost all of those people were in the dark about what had happened.
At around 6 p.m., the New York Post posted the story that Kennedy had called Paterson. But they said she did so only after the governor made it clear that she was not his choice to take Hillary Clinton's senate seat. According to the source, that version of events is incorrect.  
Until the rumors started swirling, said the source, "we had every indication things were fine."
The Times quickly followed with its own story reporting that Caroline had dropped out because she was concerned about the deteriorating health of her uncle Teddy Kennedy.
The source said that this explanation came as news to virtually everyone in the Kennedy camp.
"Unequivocally this was not about Teddy," said another source, a Kennedy aide. "This was about a different personal situation that came about at one o'clock."
When asked what the personal reason was, the aide said, "I don't know."
Associates and friends "couldn't get in touch with her," said the first source, and "assumed she was dealing with a personal matter." 
Sometime after 8 p.m., Kennedy's consultants, Knickerbocker SKD, succeeded in making contact with her. After several discussions and conference calls discussing what was at that point a long-shot possibility of repairing the damage done by Kennedy's call to Paterson and continuing with the campaign, a decision was made. 
"It was time to put out a statement that it was time to withdraw," said the first source.  
 That statement arrived in the inboxes of reporters at 12:06 a.m.
 "There were a lot of conversations going on," the source said.
"She had to call the governor between 10 and 11," said the aide. "She thanked him for the extra time to think about it and she said she thought about it. But given the enormous responsibility weight that comes with being a U.S. Senator and given this personal problem, she asked for her name to be taken out of contention."