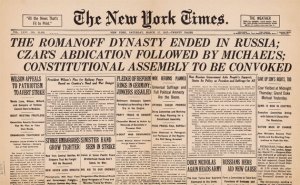 In the January/February issue of The Atlantic, columnist Michael Hirschorn looks at the future of The New York Times and wonders, "[W]hat if the old media dies much more quickly? … [W]hat if The New York Times goes out of business—like, this May?"
Mr. Hirschorn looks at the Times Company's difficult year—and its possibly even more difficult year ahead—before concluding that:
Regardless of what happens over the next few months, The Times is destined for significant and traumatic change. At some point soon—sooner than most of us think—the print edition, and with it The Times as we know it, will no longer exist.
What would that mean for readers? Mr. Hirschorn writes:
For those of us old enough to still care about going out on a Sunday morning for our doorstop edition of The Times, it will mean the end of a certain kind of civilized ritual that has defined most of our adult lives. It will also mean the end of a certain kind of quasi-bohemian urban existence for the thousands of smart middle-class writers, journalists, and public intellectuals who have, until now, lived semi-charmed kinds of lives of the mind.
Twelve year-old Third Eye Blind references aside, Mr. Hirschorn sees a future digital-only edition of the paper that looks a lot like The Huffington Post, which he describes as "the prototype for the future of journalism: a healthy dose of aggregation, a wide range of contributors, and a growing offering of original reporting." (We assume however, that this hypothetical future Times would pay its contributors, unlike the current, actual Huffington Post.)
Under this digital-only scenario, Mr. Hirschorn speculates that 80 percent of the paper's staff might be laid off, but he also predicts that some Timesmen and -women like Thomas Friedman, Paul Krugman, and Andrew Ross Sorkin might "succeed as independent operators," which might prove "more profitable than fighting as part of a union for an extra percentage-point raise in their next contract."
Will it happen? We'll tell you in May.