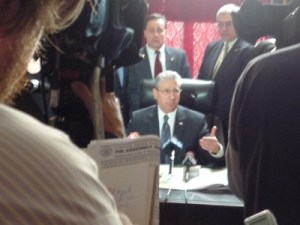 ALBANY—Assembly Minority Leader Jim Tedisco will be the Republican candidate to succeed Kirsten Gillibrand in Congress, he announced this afternoon.
"Assemblyman Jim Tedisco is going to be the same type of fighter for all of the people," he said outside the Capitol this afternoon, according to Kyle Hughes of nysnys.com. His priority will be the same: "jobs, jobs, jobs."
So the only question now is, why?
Sure, there are about 70,000 more enrolled Republicans than Democrats in the 10-county district, giving the G.O.P. an excellent chance of taking the seat back. But there's an obvious catch, which is that the seat will probably be cut up in the next round of redistricting. (An independent study predicts New York will lose one seat due to relative population decline in the 2010 census, and politicos agree that the 20th is the easiest seat to carve up. Irene Liu broke down why here.)
He doesn't have much direct influence at the moment as leader of the 41-member Republican conference, but he's masterfully used the bully pulpit he has to rage against the proposed tax on iTunes downloads and the U.S. Senate selection process.
Still, the congressional seat would give him a more national platform, one Republican observer in the district pointed out. He would also get more staff and more resources – even as a minority member – in Congress than in the Assembly. 
And re-districting cuts both ways. If Democrats are in control, they will likely re-align district lines in the Assembly to further whittle Tedisco's former conference. Depending on how things are carved, Tedisco could find himself in the same district as Paul Tonko, against whom Tedisco could mount a serious challenge.
It's enough, apparently, for him to be willing to take the risk that it might not last.
"Sometimes people want a new job," Said State Senator Roy McDonald, who served in the Assembly with Tedisco as well as Betty Little and John Faso, who Tedisco beat out for the nod. "Jimmy goes in there and he makes his point, he shakes things up as a minority member."
Democratic candidates must submit their names to their respective county chairs by noon tomorrow, according to a press release. Greene County Chairman Tom Poelker said he expects a candidate will be named "by kickoff on Sunday."
David Paterson has yet to call a special election for the seat, and when asked said he would do so "in a short time" but with "enough time to give the candidates an opportunity to present themselves to the voters."