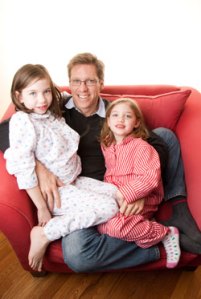 If your only contact with Joel Lovell is his regular Men + Money column for GQ, you might be forgiven for assuming that he spends all of his time coveting the stuff he doesn't have and then hating himself for it. In one of his columns, he recounts indulging in a flat-screen TV, and how he fantasized about hurling his old set "Cro-Magnon-style" into the street and telling his neighbors in Brooklyn—with their fancy plasmas mounted in their tastefully restored brownstones—to suck on it before getting in a fight with his wife and realizing the purchase has made him feel "a little tenser than usual about our finances." (And that was just a television: Imagine what would happen if he ever got the stainless steel Wolf kitchen range he also covets?)
Mr. Lovell's semi-monthly column is an angry little wound of class anxiety amid the men's magazine's celebration of four-figure shoes and photos of Jennifer Aniston without her clothes (and, O.K., some serious journalism that won the magazine a National Magazine Award for General Excellence last year). Men + Money started in 2007, when GQ editor in chief Jim Nelson decided he wanted to have a regular guy talk about his finances—not a belligerent Jim Cramer–type telling you what to do with yours.  "It's sort of nominally a money column," says GQ executive editor Andy Ward. "It's more like the emotional life of money, not investment advice."
As the economy has gone into free fall, with more people thinking and panicking about their money than at any other time in recent memory, Mr. Lovell's musings have taken on a new relevance. A father of three young daughters, married to a psychologist, he has come to see that his problem is not just with money itself, but with his (and many people's) relationship with money. The value of those things he wants is more symbolic than actual: The Wolf, which Mr. Lovell noted often occupies pride of place in the kitchens of his friends' newly renovated homes (including that of his friend and editor, Mr. Ward), speaks to him as "more like the perfect symbol of the next level you can't reach," he said last week over lunch near Condé Nast headquarters. "It's the thing that you realize is just out of reach. If you had a little more, you could have that.
"Wow," he added. "I sound like a jerk."
Reached by phone, Mr. Ward described Mr. Lovell as "allergic to gratuitousness. He has a fierce and pure sense of the way things should play out." (Mr. Ward also boasted that he "can cook the shit out of some food" on his Wolf.)
MR. LOVELL, a square-jawed, fair-haired 42, said he's been preoccupied with money for much of his life. The youngest of four kids in a solidly working-class family from Camillus, N.Y. (a tiny town upstate he describes as both "grim" and "beautiful" in the same breath), he found his first year at Cornell "extraordinarily intimidating" on account of all the "wealthy, sophisticated, worldly kids." For a while, he lied about his background, telling classmates he was raised by back-to-earth intellectuals, a creation myth he admits no one besides him cared about. He did embarrassing things like burn a stranger's expensive coat with a cigarette out of pure resentment, which he concedes now was "incredibly asshole-ish behavior" that led to the woman's boyfriend administering a beat-down.
After receiving an M.F.A. in fiction at University of Michigan, he taught writing, walked dogs and waited tables to support his writing before coming to New York to work for Harper's in 1996. ("I got absolutely, completely lucky. Compared to the people fighting for jobs now, I was wildly unqualified.") His first year in the city he felt "destabilized," scuttling between seven different sublets and realizing that "the intensity of New York magazine culture—and New York culture in general—was definitely kind of a shock."
He went on: "I found that sort of a hard thing to navigate at the time. And it continues to be"—even though he speaks from the catbird perch of the masthead at GQ, where his official title is story editor/correspondent.
At some point, Mr. Lovell hopes to write a book, "a sort of voyage into the world of money," but for now, he's focused on retooling his column to reflect issues raised by the economic downturn.