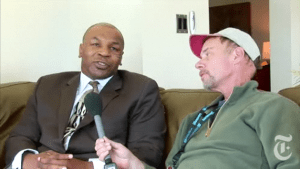 Sure, we've had some fun with David Carr's Daily Baggage videos on The New York Times Web site, but today he offers an extremely compelling dispatch in the form of a Sundance Film Festival interview with Mike Tyson and Tyson director James Toback. (Unfortunately, the video is not available for embedding—c'mon Times "renegade cybergeeks"!)
There are no dolls or Joker masks to hide behind: Just Mr. Carr face-to-face with the disgraced onetime World Heavyweight Champion whose life has already inspired one incredible documentary (Barbara Kopple's Fallen Champ: The Untold Story of Mike Tyson from 1993) and one tepid TV movie (Tyson, from 1995). For a short video—it runs just five minutes and 43-seconds—Mr. Carr manages a level of intimacy (one might say discomfortingly so) with his subject, and not just because they're reclining side-by-side on a sofa, Mr. Tyson still a mass of muscle in his well-tailored suit beside Mr. Carr (in a baseball cap and fleece) holding one microphone between them.
At one point, Mr. Carr asks the Junior Olympian-turned-cautionary tale (whom he calls "a reluctant public figure" and "a complicated guy") how all the attention and accolades he's been receiving for the film might act as a trigger for using cocaine. "I don't know," Mr. Tyson tells the author of the addiction memoir The Night of the Gun. "Well, you being a former addict yourself, I don't know how it works in your particular situation, but I never get high when I'm depressed and sad. I always get high when everything's going great." (Mr. Carr says he understands.)
After the interview, Mr. Carr tells viewers, "I gotta say, I do a lot of interviews, but that was one where I was both tense and excited at the same time."
He then offers a boastful sign-off with accompanying emphatic hand gesture: "Please remember: They call it Times Square for a reason!"
Hey, it's better than, "Carr—out."